Quick Dish Quarantine: SELF CARE COMEDY Week Nightly Live Comedy Show on Zoom Starts 2.1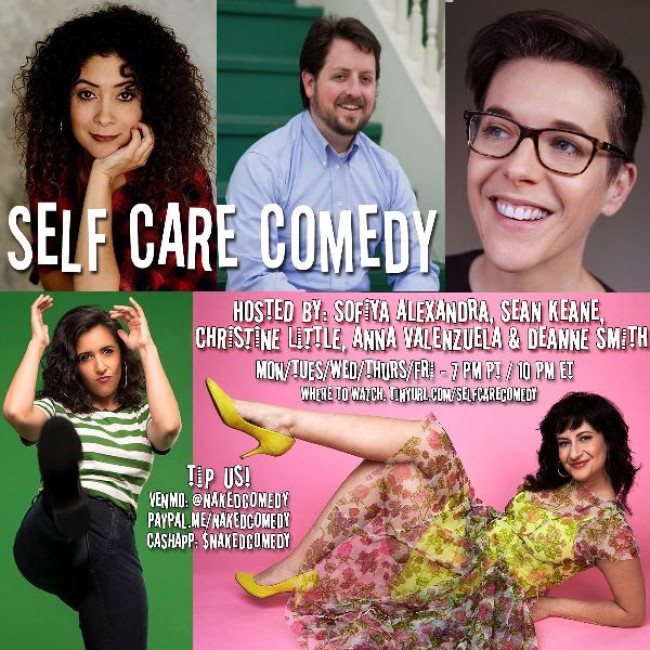 Not only is it freezing in Los Angeles right now, we still do not see any sign of real live comedy on the horizon. So what do we do when life hands us lemons? We make nightly comedy cocktails! Starting Monday, February 1st, you can watch SELF CARE COMEDY on Zoom. Every Monday through Friday at 7p PT, DeAnne Smith, Sofiya Alexandra, Anna Valenzuela, Christine Little & Sean Keane will be bringing you nightly comedy & comfort. Think of it as an extension of Comedy Quarantine where there will be further building of a supportive online community of audience and comics to help everyone get through a bitter winter and all that general world madness. That was sure a mouthful! Get more cheery info below. Where's my hot soup, already?! I can't feel my toes!
Mentions: Show 7pm PT/10 pm ET Mon/Tues/Wed/Thurs/Fri. $10 per show tip suggestion. Tips and donation go to paying performers, hosts and the producer. You can tip via Venmo @nakedcomedy, PayPal.Me/NakedComedy, CashApp $nakedcomedy, and Eventbrite.com/e/self-care-comedy-tickets-138026231173. Watch on Zoom HERE. Meeting ID: 840 2706 9654.