Quick Dish NY: Enjoy A Night of Comedy & Music & Dance with THE CubaAMP BENEFIT SHOW 9.15 at Caveat
Join the CubaAMP Benefit Show show Wednesday, September 15th for an event featuring comedy, music, and more in support of CubaAMP, an organization working to translate video messages from Cubans on the island and helping to get their messages out to the world.
CubaAMP believes that access to internet and video recording capabilities has introduced a new powerful weapon in the fight for freedom in Cuba, but the language creates an inherent barrier to entry to that content. English being the pervasive international language, CubaAMP seeks to amplify the messaging of the Cuban people by providing simple, direct translations.
While CubaAMP stands opposed to the regime of the Cuban government, this project is unaffiliated with any group, organization, or government. We have no opinions other than that solidarity with the Cuban people is paramount and language justice is social justice, meaning every person has a right to be heard.
The September benefit variety show at New York's Caveat will feature the talent of:
Joanna Hausman  
Alise Morales 
Alexis Guerreros 
Irene Morales
Joey Dardano 
with a dance piece choreographed by Samantha Pazos 
Come laugh and lend your support.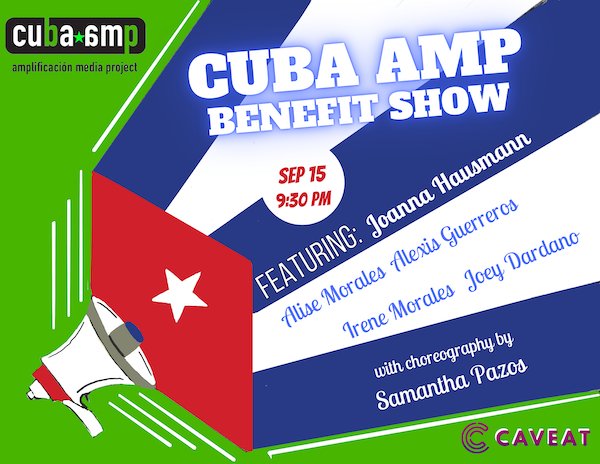 Mentions: Show 9:30pm EDT. Tickets $15 in advance, $20 at the door, $10 livestream. 21+. Location: Caveat, 21 A Clinton Street, New York, NY 10002. This show is produced by Nick Milanés.