Quick Dish LA: Be A Part of The SILLY KARAOKE SHOWDOWN 10.14 at Nerdmelt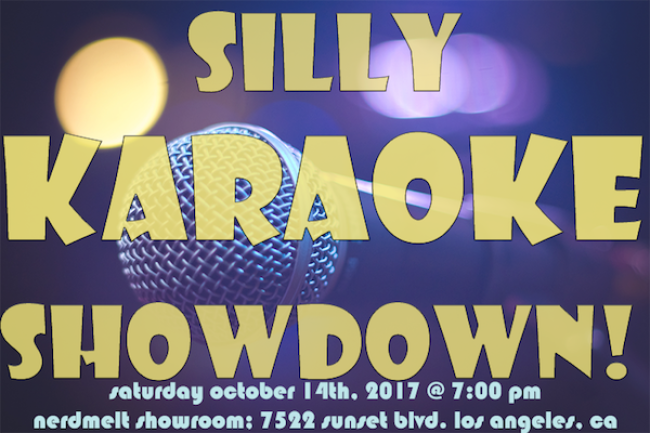 The last time I did karoake people were singing on tables and sneaking in unauthorized drinks. Suffice it to say, it was an amazing time! If you are game to have just as much fun this October, be a part of America's new untapped sensation SILLY KARAOKE SHOWDOWN. Think Japanese game show meets American Idol meets Weird Al. I know, you can't make this stuff up. At Silly Karaoke Showdown, comedians sing pre-written parody songs LIVE and are then scrutinized by ruthless "celebrity" judges. We have a feeling the party is in the performances and you are far less likely to remember who came out victorious. Sounds like my kinda show! Saturday, October 14th at NerdMelt Showroom, you will enjoy
Karaoke Superstars Ali Lu, Alyssa Sabo & MORE!
+
Parody songs from writers Colin Gunn-Graffy, Victor Olivas, Ronny Pascale & Jacky Tran
The show is produced and hosted by Ronny Pascale (Unauthorized! The Musical) who was the lead producer for NYC Sketch Fest and NYC Improv Fest. This shingdig should be a phenomenal blast. Don't miss out!
Mentions: Show 7pm. Tickets are $8 in advance / $10 at the door. NerdMelt Showroom is located at 7522 Sunset Blvd., Los Angeles CA 90046.