Tasty News: Throw Culinary Tradition Out The Window at The New Faux Restaurant CON-FUSION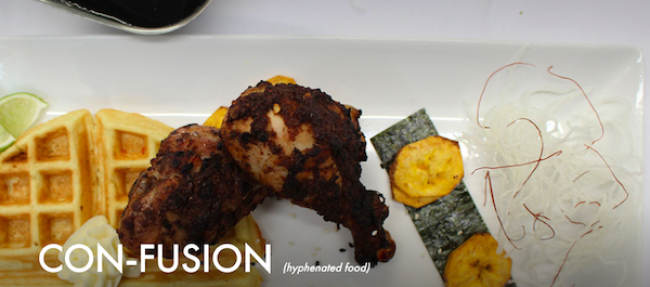 From the man that brought you the satirical fine dining sites lilbuco.com (fine dining for kids) and abbrevsrestaurant.com (for that barely there meal), comes the ultimate in hyphenated food experiences. LA comedian by way of Austin, Danny Palumbo (America's Got Talent, NPR), has a just unveiled a new faux restaurant for you that just screams FUSION. cucinaconfusion.com invites the diner for DINN-ER and DRINK-S so much more eclectic than your usual fare. Your "DINN-ER" options are divided into the categories of "Anarchy" and "Chaos" offering unlikely pairings such as jersey pho, lebanese corn dogs, nordic tacos, the burrito pizza, and the cake of three milks. Eat your heart out Taco Bell! As for the "DRINK-S" menu, how could you possibly miss out on Mango Cider Lassi (British Cider, Indian Yoghurt, Mango) & Jimmy The Gent (Youngstown Vodka, Frangelico, Baileys Irish Cream)? You can pair literally anything in this world, so why not do it on your plate! Enjoy!
Mentions: Danny Palumbo has performed at the Moontower Comedy Festival and the Big Sky Comedy Festival. He has been a guest on NPR's Dinner Party Download, and his work has been featured on ABC News and Eater. You may have seen him perform stand-up on Uproarious and for Kevin Hart's LOL Network. Learn more about the performer HERE.