Quick Dish LA: Afternoon Delights with LATE LATE BREAKFAST 4.7 at The Silverlake Lounge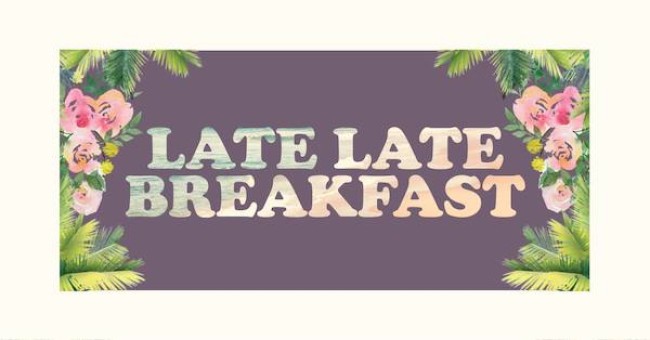 Not all comedy shows are created the same, kids. At the mixed-format standup show known as Late Late Breakfast, the fun begin at the apex of the afternoon lounging hours and ramps up with

a dizzying array of comedians telling jokes while facing randomized themed challenges that could be anything from having an impromptu puppet show or pie fight or Easter Pageant, to giving a guided tour in a trolley car or smashing fruit like Gallagher or pitching in a baseball game involving the entire audience.
The show, started in Chicago, is hosted by creators Tyler Jackson and Danny Maupin (Bridgetown Comedy Fest, NYCF), and has been winning over audiences at places like NYCF, Bridgetown Comedy Festival, The Comedy Exposition, TruTV's High Plains Comedy Fest, Orlando Indie Comedy Fest and more! Saturday April 7th at the Silverlake Lounge you can be part of the second installment of the Los Angeles branch where you will be diverted by the antics of
Ad Spot by Whitmer Thomas (Walking Dead, Power Violence, You're The Worst)
Blair Socci (MTV)
David Gborie (Comedy Central, Conan)
Joe Kwaczala (Comedy Central's Comics to Watch)
Anna Seregina (Comedy Central)
The Puterbaugh Sisters (High Plains Comedy Fest, Comedy Expo)
James Fritz (Red Clay Comedy Fest)
Steve Ageyi (VICELAND, Bridgetown, Riot LA)
…AND MORE!
Looking to change things up, then this is the place to be! GO!
Mentions: Doors 4pm. Show 5pm. FREE ($5 suggested donation). Silverlake Lounge is located 2906 W Sunset Blvd, Los Angeles, CA 90026. This show produced by Liz Maupin.