ICING: CARLY HOOGENDYK is Helping Make CAVEAT A Leader in Thoughtful, Eclectic Comedy Programming
Today begins the Diversity AF Comedy Festival at one of the most unique comedy venues in New York, CAVEAT. Not only is this a place for one to digest the most engaging performers, novel events and scrumptious culinary offerings, but you could call it a center of learning where one can totally level up with some personal achievement points. Caveat's lead comedy booker, CARLY HOOGENDYK, couldn't agree more with the learning aspect. She's a member of the team that makes Caveat a veritable fountain of "playful, intelligent nightlife." A graduate of Columbia University, Hoogendyk has turned a background in improv and production into an exciting career booking groundbreaking comedy shows non-stop! AND she wants you to have fun and expand your mind when you attend the shows she's had a hand in bringing to stage. Allow Carly to tell you all about her work at this popular establishment, the performers whose careers she thinks you should be watching closely, plus the diverse, academic-infused programming she's looking forward to bringing you in the coming months! Enjoy!
COMEDY CAKE: Caveat's shows are off the charts unique. How'd you get involved in the booking process at the venue?
CARLY HOOGENDYK: I first heard about Caveat back in October (they had only been open for just over a month). I caught wind of the venue on social media at around the same time Michael Wolf and Colin O'Brien (hosts of Literati, a show I co-produce) were interested in booking there. I got to know the leadership team at Caveat (co-founders Ben Lillie and Kate Downey) as we brought Literati there, and the more I learned about the mission behind the venue and their attitude in running it (both of which RULE) the more I wanted to be involved. I was doing part-time audience outreach for them, as well as producing a handful of shows at other venues, when they asked me to join their staff full-time. I started in early January.
CAKE: In your opinion, what sets Caveat's performances apart from other venues?
CARLY: In short: shows at Caveat will teach you something. Our shows are unconventional, educational, and entertaining. We put academics and entertainers on the same stage 7 nights a week and it's my experience that everyone involved benefits — especially the audience. The goal is to make information more accessible by pairing it with delight — it's entertainment curated for the curious, the intellectually adventurous, and the unabashedly nerdy (all of which I identify as).
The space has a uniquely cool-smart vibe and on THAT NOTE, I gotta shout out Caveat's venue staff!! The teams that take care of house management (Anne Huston), bar (Jesus Diaz), and tech (Andrew Kerr-Thompson) deserve so many awards. The folks who run the day to day at Caveat are smart and committed and capable and they're working their tails off because ultimately we're all working for the show.
CAKE: How'd you get started in comedy?
CARLY: I was part of Columbia's improv team Fruit Paunch, so that's the earliest kickoff. After that, it's a litany of starts and stops that could best be summed up as "eventually I quit my day job, started taking improv at UCB while freelancing, and everything got a little better from there." The first comedy show I ever produced (at least for a team that I wasn't on) was called Life! With King Regis at the Tank in 2012, and King Regis was Becky Abrams, Brian Fithian, Caroline Martin, Tim Platt, and Casey Donahue, and Jeremy Gundel.
CAKE: What's a day in the life of Carly typically look like these days?
CARLY: No such thing as typical days anymore (thank god). Some days I'm biking to meetings with people around the city, other days I spend twelve hours in a basement and eat nachos for dinner because it's an "email day," but the only really typical daily activity is that I see some kind of performance six or seven nights a week.
CAKE: What do you think is the perfect recipe for a popular show?
CARLY:
CAKE: You produce "SUP," which features a comedy collective of female, queer, and gender non-conforming performers making folks laugh. What have been some of your favorite SUP moments? What talented up-and-coming performers do you think we have our eye on?
CARLY: The Sup Show is co-produced by myself (on the Caveat side) and the five freaking geniuses who organize the Sup Open Mic: Jesse Roth, Fareeha Khan, Stephanie Pace, Maddie Fischer and Juliet Prather. And those women FOR SURE are the talented up-and-comers you should have on your radar. That said, my favorite Sup moments are the ones I've witnessed at their open mic at the Creek and the Cave — you won't find a more supportive audience at an open mic anywhere else in the city. A few of my favorite sets from the Caveat show were from Maggie Widdoes, Michael Foulk, and Karolena Theresa.
CAKE: Which have been the most stand out shows of Women's History Month at Caveat?
CARLY: Yeah She Did was our spotlight women's history show, held on the "eve" (wink) of International Women's Day. It was a total triumph. We had a stacked lineup of comedians and storytellers share the story of one women from history that we all really ought to know (but probably don't). It was SUCH a sincere show, but it was also the funniest because of the women who contributed: including Georgia Clark, Aparna Nancherla, Taylor Garron, Keisha Zollar, Maggie Widdoes, Karen Chee, and Janice Maffei. On top of all that, Chloe Koser was our host and listen: you want Chloe Koser to host your show. She's a treasure.
Every month, Generation Women is an incredible show happening at Caveat — as evidenced by the fact that it is already sold out a month in advance! Seeing what Georgia Clark has assembled has been a total inspiration to me. She books an age-diverse lineup of accomplished women storytellers and it's always such a warm and intelligent evening!
CAKE: Do you think Caveat will expand its presence out West?
CARLY: I mean, we'll see! I'd say it's an idea worth spreading but I think that phrase is like… trademarked.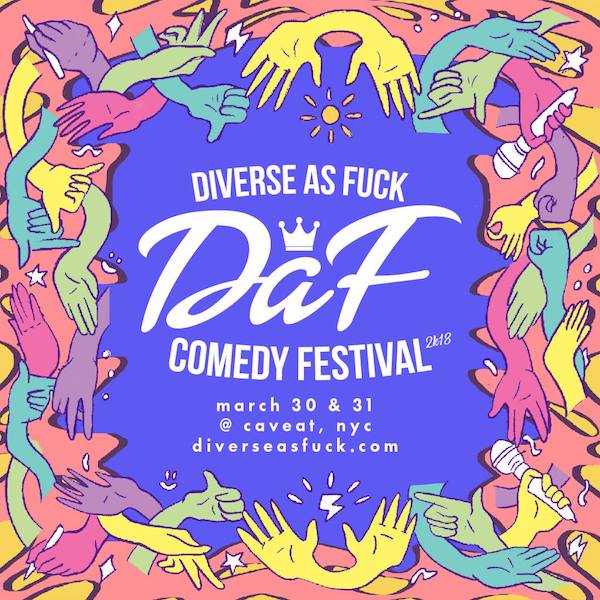 CAKE: Can you tell us a little about the upcoming DAF Comedy Festival and what we can look forward to there?
CARLY: A little about DAF: Milly Tamarez is both funny as hell and a force for good. She and Taylor Gonzalez have put together an incredible two-day festival (lineup here) and I'm planning to camp out at Caveat for the entire thing. You should too.
In particular, folks should check out the Pregame Your Brain happy hour with DAF Fest on Friday 3/30 — it's everyone's chance to drink together and learn about "methods for uncovering and short-circuiting bias in the entertainment industry."
CAKE: What other Caveat shows should we have on our radar in upcoming months?
CARLY: For anyone motivated to get involved at Caveat in our pursuit of "intelligent nightlife," you should know that every Sunday from 4-6pm Scratch Paper is our open mic. Comedians, academics, and journalists have been using our stage every weekend to try out rough material that educates AND entertains.
Also, I'm so nerdily excited about our TWO upcoming climate science comedy shows (a testament to Caveat's uniqueness: we have two COMPLETELY DIFFERENT comedy shows that deal with climate science in April).
On April 9, we partnered with Inverse to produce a show called An Inconvenient Truth 3: Maybe I Wasn't Clear the First Two Times — a talk show hosted by a pissed off Al Gore (played by Rollie Williams), in which Gore tries for a third time to get it through our thick skulls that THE EARTH IS DYING. Featuring bits from Sudi Green, Bowen Yang, and Peter Smith. Directed by Mark Vigeant. Music by Will Moritz. I mean. Come ON.
Then, on Earth Day (Sunday 4/22), Caveat is putting on a huge climate change show -slash- party called What the F*ck Do We Do, hosted by the absolute dreamboat Keisha Zollar. That one will have climate experts (including Kate Marvel, a TED speaker and Columbia research scientist) sharing a variety show lineup with comedians. The format is a bit of an experiment; we're hoping that the climate experts will educate us to confront the realities of climate change and the comedians will be there to help us process. And since the outcome of climate change is either grim or uncertain… we serve beer!
Aside from those two, I can't emphasize enough: our event calendar offers a barrage of incredible upcoming shows that will make you laugh, cry, and learn a frigging thing or two. We have the best trivia night in Manhattan and a comedy show that lets comedians interrupt their teacher as much as they wish they could've in high school. Also, be on the lookout for a comedy show about the history of the MTA that will answer the age old question "Why is my train fucked?!"
Mentions: Check out the bevy of nightly performances you can take in and learn a thing or to from HERE.