Icing: Learn All About THIS Week's 'Virtual KATG Week 2021' with Keith Malley and Chemda PLUS Our Special Giveway!
All, THE week is now upon us! Virtual KATG Week 2021 will commence this Wednesday 4.14, offering up a FIVE day celebration of the long-running Queens-based comedy podcast, Keith and The Girl, hosted by KEITH MALLEY and CHEMDA. Tickets for all events are currently on sale and include these events (in order): a live KATG recording featuring Kevin Allison, Calvin Cato, Ophira Eisenberg, Christian Finnegan, & Myka Fox; a Silent Trailers Game Show livestream with Keith facing Gilbert Gottfried, Doug Benson, Lecy Goranson, Nikki Bon, & Wendi Starling; KATG Movie Night, where your hosts and guests Mike Lawrence, Kyle Ocasio and YOU watch the classic movie Leprechaun together, featuring comedic commentary; a KATG VIP Night, where viewers will be treated to a live taping of some of your favorite KATG VIP Shows, like "Daddy Issues," "Diamond Dogs with Adam Brown and Craig Klein", and more; and KATG Private Chat & Game Night, where you can hang out for the "KATG after-show glow," including your hosts reviewing the week, and playing some poker! There will also be options to purchase "backstage" passes and get a peek into the inner working of the show, now going on 16 years! We got the chance to pick the KATG hosts' brains about these events and other stuff, and, let me tell you, it was illuminating!
Now let's quickly get back to the subject of tickets before you dig into the interview. TOMORROW morning, at 8am Pacific, we will be doing a GIVEAWAY for two pairs of tickets to the SILENT TRAILERS event, happening THIS Thursday, April 15th. All you have to do is answer a super simple KATG question, and whichever Comedy Cake Instagram subscriber answers correctly first will receive a pair of tickets to the MUST-SEE event. It couldn't be more simple! Now back to reading with you!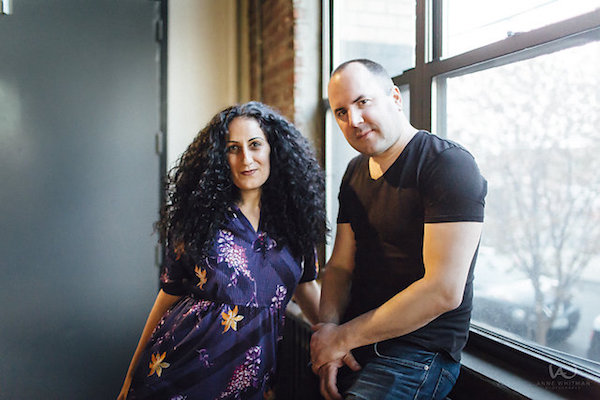 COMEDY CAKE: This is your second Virtual KATG Week. What have you learned from last year's event that you will be applying to the upcoming one?
Keith Malley: We've learned what a lot of comedians' homes look like. We, accidentally, learned what kind of underwear some people wear. Some of us learned how to cut our own hair. It's been a year of adjustments and lessons.
Chemda Khalili: I might never see Keith in person again.
CAKE: What was your process for coming up with the guest list for this live KATG show taping (besides availability)?
Chemda: You know how I "don't know movies or actors' names"? I know these guys. They are my beloved stars. The guest list is made up of people who tell the greatest stories, are professional and fun, and our audience loves them as much as we do.
CAKE: Having been in the podcast game for 16 years now, how do you keep things fresh? Do you ever get sick of each other's presence?
Chemda: There's always something to talk about. Keith's dad is still acting up by lying to his kids to try to get their attention, my mom started sending me care packages even though we haven't spoken in years, and, well, the world keeps spinning a little wobbly. No worries; there's always something new.
CAKE: We understand the KATG movie night will screen that classic horror film known as "Leprechaun." Has Chemda seen this particular film before?
Chemda: I've never seen this movie and I'm excited for Jennifer Anniston's first big gig! It seems like the perfect movie to talk over.
Keith: I don't think I've seen it either. That's the problem with bad movies though, my brain deletes that I've wasted my time and I totally forget if I saw them. But I can understand the concept: Give me my fuckin' gold!
CAKE: Who's idea was it to pick this particular 90's flick for the KATG audience's viewing pleasure?
Keith: Naming names isn't important, but I saw it easily available for the audience to watch and listen to our commentary, and it's one of the few movies I haven't seen. Or have. I bet 5 minutes in I'm like, "Oh RIGHT… Shit … "
CAKE: If you had a pot of gold, where would you hide it?
Chemda: I'd hide it in any theater showing this movie. Seems like a safe distance from the public.
Keith: I would share it with the world. Kindness is it's own reward.
Chemda: What Keith said!
CAKE: Keith has had a rough run at the past few virtual "Silent Trailers" events. Is the April 15th one with Gilbert Gottfried, Doug Benson, Lecy Goranson, Nikki Bon, and Wendi Starling, the game where Keith takes it all back to assume his dominant reign? I hear Doug does REALLY love movies.
Keith: I don't like to live in the past. Let's live in The Now.
Chemda: April 15th is Keith's birthday. I expect the players to hit him extra. (Comics don't know how to show love.)
Doug Benson is the obvious big competitor when it comes to movie knowledge but with Silent Trailers, you never know! The win has come down to the final play where maybe Gilbert Gottfried ends up stealing the game because my clue might resonate with his history of movie watching more than Keith. Or Lecy Goranson may grab the lead for the team because I mentioned something on the screen that she happens to remember from a movie from her childhood. That's why I think it's fun to play along. You never know what connection you can make when you hear the movie trailer description.
CAKE: Who is responsible for creating the Silent Trailer categories? They are always so clever.
Chemda: Xerxes, our Director of Operations, and I sit together and run ideas. Whatever makes us laugh makes it in.
CAKE: Do you think Chris Gethard will need additional therapy after the last Silent Trailers event, despite the team's win?
Yes! Please use our link: BetterHelp.com/KATG
CAKE: Can you tell us about the Virtual KATG Week events that will be most appealing to your most die hard fans?
Chemda: The die-hards will be coming to all the events and that's why we love them the most.
Keith: Literally IN love.
CAKE: What are you looking forward to the most when this pandemic is over (if it ever is)?
Chemda: Running into people.
Keith: I'm living in the now. (And shaving my own head.)
Mentions: All Virtual KATG Week 2021 tickets HERE. LISTEN to KEITH AND THE GIRL on: Apple Podcasts, Spotify, Google Podcasts, and Stitcher. Follow KATG on Facebook, Twitter, & IG. Become a Comedy Cake Instagram follower HERE.