ICING: BRIAN HUSKEY Reveals Tasty Tidbits About The MR. NEIGHBOR'S HOUSE 2 Special Premiering 6.24 on Adult Swim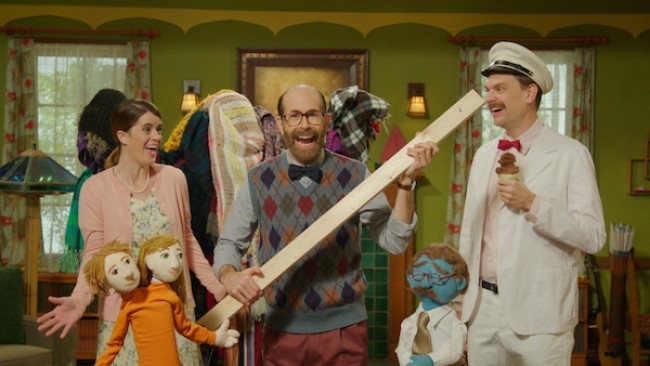 Hello friends! When we last left Mr. Neighbor's House, a 31st annual 5th birthday party turned into the uncovering of deeply-rooted, repressed memories that quickly bubbled to the surface as Mr. Neighbor invited guests to his grand event. In MR. NEIGHBOR'S HOUSE 2, premiering Sunday, June 24th on Adult Swim, the journey to emotional healing get's EVEN DARKER, as we leave the comfort of Mr. Roger's Neighborhood parody and discover the Lynchian horror that lies within Jim Neighbor's speckled past. Comedian, actor, writer, producer BRIAN HUSKEY, once again, stars as the troubled Jim Neighbor, along with entertainers you'll recognize from the first Mr. Neighbor's, including Mary Holland, Colleen Smith, Dave Theune and more! You'll also be pleased as punch to learn that the writing team of Jesse Falcon, Jason Mantzoukas, and Huskey collaborated for #2 (get your mind out of the gutter), bringing even more psychosis to the Adult Swim family of specials. Won't you read this delightful interview with Brian where he gives up juicy details about the upcoming comedy/horror show that awaits you? (AND reveals Mr. Neighbor's favorite dessert!) BTW, in this interview Mr. Huskey calls me "crazy" and, guess what? I liked it. Chew on that, shrinks.
CAKE: So what spawned the creation of the "Mr. Neighbor's House" sequel?
BRIAN HUSKEY: Adult Swim asked if we wanted to do another one, which is what we were hoping for naturally. So they fell right into our trap! IDIOTS! But when we ended the first one we had already been talking about possibilities for what the second one might be, so we had some ideas.
CAKE: I understand Jesse Falcon and Jason Mantzoukas once again joined in on writing "Mr. Neighbor's House 2." Can you share a fun story or two from the writer's room?
HUSKEY: It was never fun in the writer's room. So much physical abuse from me against Jason. Jesse huddling in the corner gorging himself on huge tubs marshmallow fluff from Costco. Jason physically abusing Jesse, after I was done attacking Jason, and once Jesse was done with his fluff. of course.
Oh! But this one time we the hardest time getting onto the wifi! It took like at least 10 minutes!! It was like, what?! I swear! You can't make this stuff up!!
CAKE: Where do you get inspiration for storytelling of this nature?
HUSKEY: From the beginning David Lynch was a reference for us because we were dealing with a world that exists in someone's mind (or maybe it doesn't?!). And we wanted to use that juxtaposition of kid's show innocence and Lynch's surreal menace. We gave ourselves some rules to follow so that when things got crazy, they still made sense in terms of who Jim Neighbor is and what his history is. As long as we related it to the back story we had for him, and the rules of the Mr. Neighbor universe, it helped us not get crazy for crazy's sake or because it's on Adult Swim. That helped us with the writing and with figuring out what Mr. Neighbor's world was or could be.
CAKE: The new special is even darker than the first. Were you already thinking about going down a more horror-filled comedy route after concluding the first special?
HUSKEY: The darkness comes from the circumstances he is dealing with. When we were deciding what kind of event would be traumatic enough to break someone's psyche, we knew we didn't want to make fun of that. We could always find places to create comedy, but we wanted to really track his story. We love poor Mr. Neighbor, as you need to whether your protagonist is a villain or a hero. And you have to know what motivates their actions and reactions. Bill Benz, our director, Barry Elmore, our DP, and Stacy Moon, our editor, teased out the horror as we were shooting and cutting it. They really amped things up in such intense ways! I would alternate between giggling with delight at how dark it was and then giggling with discomfort at how dark it was. Either way there was giggling, which the basis for great comedy and art, so we nailed it.
CAKE: How far down the rabbit hole can viewers expect "Mr. Neighbor's House 2" to burrow into the protagonist's past?
HUSKEY: I can't tell you because then viewers will know how far far down the rabbit hole "Mr. Neighbor's House 2" will burrow into the protagonist's past, and what's the fun in that? Let's just say it's somewhere between a tiny bit and a fuck ton.
CAKE: Are there any new characters we will meet in the sequel?
HUSKEY: Yup. I think there are 9 additional characters. Maybe more bc I'm stupid. The first Mr. Neighbor's House had a pretty tiny cast. We wanted to really strain our budget this time so we said, let's hire a shit ton more people! We have some fantastic talent this time; Mary Holland, Colleen Smith and Dave Theune are back. Jean Villepique (AP BIO), Jerry Minor (SNL, Brickleberry), Gil Ozeri (Kroll Show, Brooklyn 99), Seth Morris (Veep, Kroll Show) Marc Evan Jackson (Brooklyn 99, Jumanji), and yes, even Joel McIntyre (Back Street Boys, Return of the Mac)!!
CAKE: They say you should never work with children or pets in Hollywood? What are your thoughts on working with puppets?
HUSKEY: Same rules apply- whatever you are trying to do will take longer and be much more complicated than you could ever imagine. There were a few times we just said "Meh, that's good enough. Moving on!" But, the advantage with puppets is they don't poop on the floor like children and pets.
CAKE: What were your favorite children's programs growing up? And today?
HUSKEY: Mr. Rogers, because I mean how could you not? Only monsters and serial killers don't love Mr. Rogers. Loved the Electric Company! Captain Kangaroo. And the New Zoo Review was a favorite. (Look it up on YouTube. It's bizarre.) Yo Gabba Gabba is a great recent series. And Stranger Things, because I wanted the whole series with my daughter. She's OBSESSED with it.
CAKE: Much like a Grimm fairytale, there is an important takeaway in the new special. Do you find some kind of meaningful resolution or truth vital to compelling storytelling?
HUSKEY: Really?! What's the important takeaway? I totally missed the important takeaway. From a writer's perspective it makes your job a little easier to having something like a truth in a story to work towards. It supports a theme in the story. And as far a meaningful resolution, that is another point to work towards, or earn, in the story you're telling. There are just some aspects of storytelling that you have to have, even if you are messing with the form. We mess with the form in this special, but you still have to have some elements that give you a home base. I think the audience wants that as well. That being said, I love things that leave me feeling confused. It mirrors my daily existence. (Seriously, what is the takeaway??!)
CAKE: Am I crazy, or are there tinges of "Cuckoo's Nest" in this special?
HUSKEY: Maaaaybe. And yes, you are crazy. Only crazy people ask such a question.
CAKE: Does Adult Swim give you plenty of leeway with the creative process?
HUSKEY: Clearly. I mean where else could we make a comedy show like this! When we spoke with the head of the network, Mike Lazzo, for both specials I think he gave us like one, maybe two notes. And they were only in support of what we had, helping to make what we were trying to achieve more impacting or clear. With this last one he said "Just make sure it's funny, which you guys will do so I'm not worried." That's not even a note, it's just a supportive reminder!
CAKE: How do you think Jim Neighbors would feel about those popular "braspberries?"
HUSKEY: He wouldn't trust them because he wouldn't know if they were real, or a hallucination.
CAKE: Any other upcoming projects you'd like to mention?
HUSKEY: Going to work a bit on the final season of Veep. And… I hope Mr. Neighbor's House 3? (I mean the rule of threes dictates that we have to do another, right?! Fingers crossed emoji!)
CAKE: Lastly, what's Mr. Neighbor's favorite dessert?
HUSKEY: Impossible Pudding.
Mentions: MR. NEIGHBOR'S HOUSE 2 airs June 24 @ midnight on Adult Swim! Catch the first Mr. Neighbor's House HERE, if you missed it!