Tasty News: The Comedian & Audience Win in LAUGH EXCHANGE's New App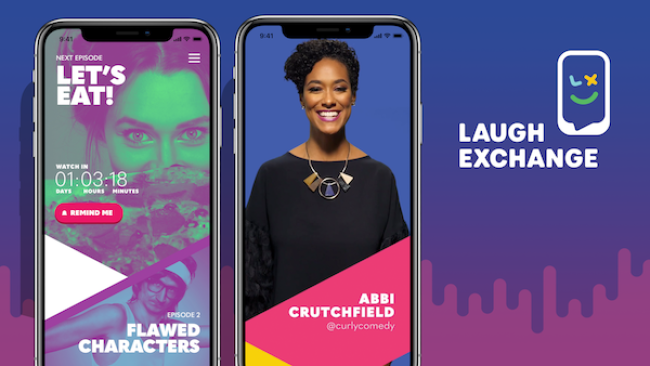 Are you looking for a free mobile app where you can fuel your passion of watching comedy while winning money? Then the LAUGH EXCHANGE is for you. This next-generation mobile comedy network brings short comedic videos to your phone (ios 11.4 or later), where fans can vote on what makes them laugh. The talent win cash prizes, and the audience shares in the bounty if their votes match the final results. Win-win! Laugh Exchange is the brainchild of Dave Bernath, former general manager at Comedy Central, and the founders of pioneering Internet of things company SmartThings — Andrew Brooks, James Stolp, and Alex Hawkinson.
Now to the juicy details! Comedian Abbi Crutchfield hosts an interactive comedy show every Monday, Wednesday, and Friday at 8:00 p.m. ET/5:00 p.m. PT. Each episode features 15-to-60-second videos from up to eight creators on a catchy theme. Viewers can rank the creators to award the top three of the pool a cash prize. Those who correctly pick the winning rank order also earn a cash prize. Fans vote during the window the show is on and can view past shows at any time. Laugh Exchange is planning to launch additional formats on the network before the end of the year.
Laugh Exchange accepts submissions from both amateurs and professionals in any format, including stand-up, sketch, animation. Submissions for each episode close 24 hours before its debut, and every creator selected for an episode is paid an appearance fee. Woohoo! Did we mention veteran NYC stand-up comedian Carolyn Castiglia is the company's Head of Editorial? Whip out those iphone, ipads and itouch and make it rain!
Mentions: Laugh Exchange is available for iOS. Download it today! Creators can submit to Laugh Exchange at laughexchange.app. Viewers can rank their favorite creators in new episodes between 8:00 p.m. to 1:00 a.m. ET/5:00 p.m. to 10:00 p.m. PT.