Video Licks: Watch The EXCLUSIVE Premiere of The Simply Adorable & Funny SISTERS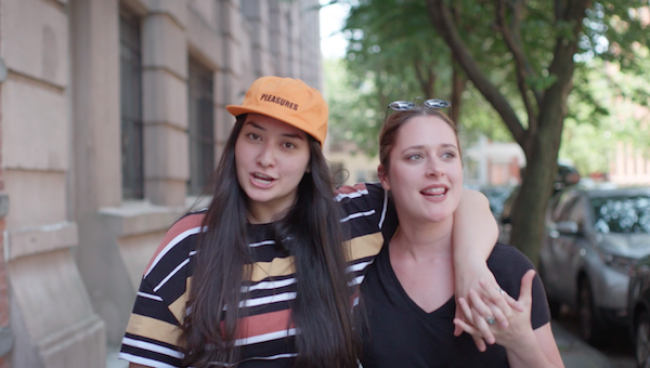 Comedian and writer SOPHIE SANTOS (host and curator of the popular, monthly, Brooklyn-based live comedy show The Lesbian Agenda) teamed up with director Amy Bianco (Santos real life girlfriend) and fellow comedian & composer, James Harvey, to bring you this funny new video/track. In this EXCLUSIVE music video premiere, SISTERS, we find a modern day couple on an ordinary day confronted by passerby who keep mistaking the couple's relationship for something very different. "How many times do we have to tell you that we're gay?" Apparently, A LOT! The video emphasizes the frustration that occurs when such a close bond is mis-interpreted as something far less intimate.
Santos hosts the the popular monthly show, The Lesbian Agenda, at Union Hall, and has written for shows on Bravo and MTV. Her memoir (keep your "she's too young to have a memoir" comments to yourself) will be published by Jill Soloway's imprint, Topple Books, (which publishes primarily women of color, gender non-conforming, lesbian, bisexual, transgender, and queer writers) in April 2021. Santos also performed at the Edinburgh Fringe Festival and The Kennedy Center. Yeah, that memoir is looking more reasonable now, huh? Please watch the video and, for the love cake, don't call her and her girlfriend sisters, roommates, friends… again. Enjoy!
Mentions: Learn more about Sophie HERE! Follow her on Twitter & Instagram.