Quick Dish: Monday's HOT TUB SHOW will be KILLER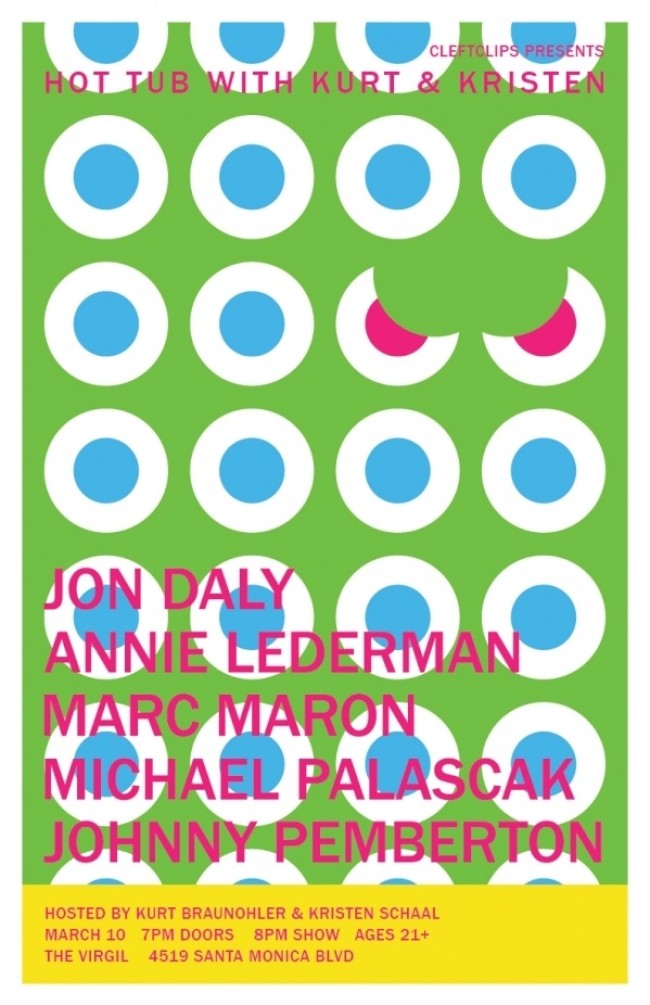 What the whu?! Yeah, you just saw the names on that poster. Maron! Daly! Lederman! Palascek! Pemberton! It's gonna be a party at the Hot Tub Show with Kurt & Kirsten Monday, March 10. If you didn't already know, Hot Tub is hosted by saavy comedy professionals Kurt Braunohler and Kristen Schaal, who bring audiences an amazing variety of comedic & musical acts on a weekly basis at The Virgil. So whether you've never been or this is your 50th time, get your tickets to LA's hottest comedy show NOW.
Just a reminder (in case you are still groggy):
Kurt Braunohler (@midnight,BUNK) & Kristen Schaal (@midnight, Conchords)
-with-
Jon Daly (Kroll Show)
Marc Maron (Maron)
Annie Lederman (@midnight, GTA V, Adam Devine's House Party)
Michael Palascak (Letterman, The Tonight Show)
Johnny Pemberton (Twisting The Wind, Kroll Show, New Girl)
Mentions: Get Your Hot Tub Tickets HERE. $5 presale! Doors 7:00pm (w/ Happy Hour Specials). Show at 8:00pm There will be a limited number of door tickets available if the presale sells out (cash only).