Video Licks: Sherra & DeDe "Fix" A Hoarder in This Super Funny Episode of FIX YOUR LIFE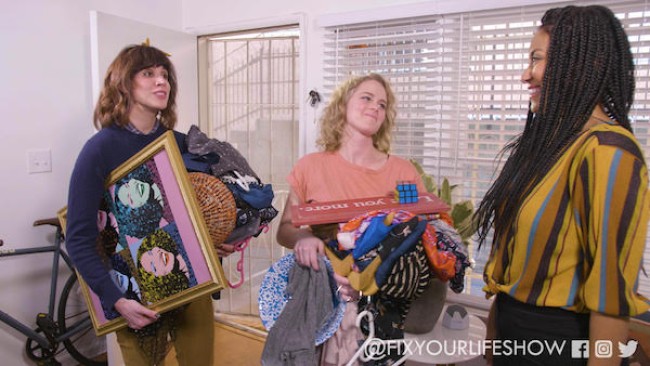 Who else get's a tiny bit euphoric seeing those programs where a hoarder's collection gets wittled down to the bare essentials? In this stockpiler-focused episode of the fully improvised comedy series FIX YOUR LIFE, we find our hosts Sherra (Sherra Lasley) & DeDe (DeDe Drake) more than surprised when their hoarder candidate is anything but the human squirrel they think. Niccole's (Niccole Thurman) mid-century modern adorned apartment is the epitome of spartan and our hosts soon realize they might be able to benefit from going full Kondo method on her. Looks like the skies the limit for Sherra and DeDe when it comes to new clothes, accommodations, and transportation. If Niccole is happy in the end, does that mean manipulation for personal gain is totally OK? Find out in HOW TO FIX A HOARDER!
This episode was created by and stars DeDe Drake and Sherra Lasley. It guest stars Niccole Thurman and includes the cast of Tim De La Motte as Tim The Sound Guy. Direction was provided by Dunbar Dicks.
Mentions: Watch more FIX YOUR LIFE episodes HERE! Follow the show on Ig.