Quick Dish: DO NOT MISS Church at the Church TONIGHT!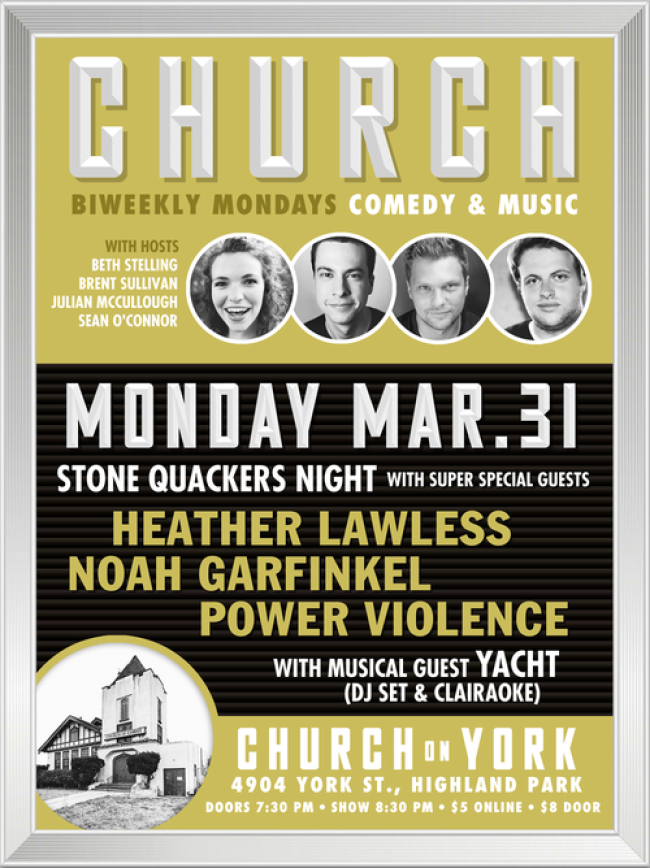 Probably one of the coolest venues in Los Angeles is The Church on York in Highland Park. Yes, this 100-year old church hosts some of the best music, film, comedy, food, art, theater, readings, panel and whatever other event you can imagine. Tonight, March 31, "The Church" will open its doors to The Church Comedy & Music Show's STONE QUACKERS NIGHT. This show will feature comedy from
Heather Lawless
Noah Garfinkel
The crazy stylings of Power Violence
+hosted by Beth Stelling, Sean O'Connor, Julian McCullough and Brent Sullivan
The Church also features the music of Yacht. What are you waiting for? Be cooler than your friends and buy tickets for this bi-weekly phenomena.
Mentions: Buy your tickets NOW! ONLY $5. Doors 7:30pm. Show 8:30pm. The Church is located at 4904 York Blvd, Los Angeles. Comfort food from an LA Native.