Icing: We talk to Daniel & Keith Shepard About Their Series 'Swimming Lessons'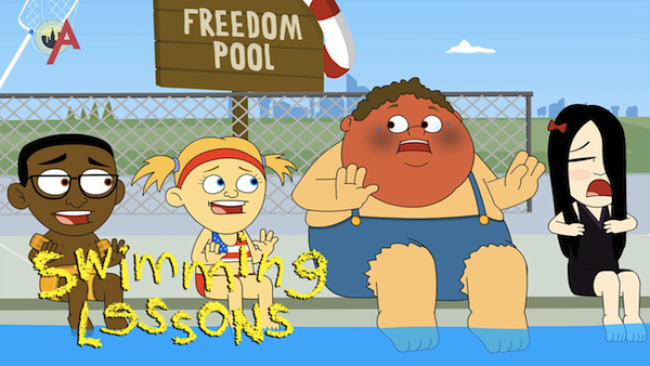 It's "Palindrome Week Hump Day" so that means a new (and final, sniffle) episode of Swimming Lessons at Above Average. This week learning the backstroke becomes a lesson about death and Bloody Mary's choir voice.
As an added treat we asked the creators of the series Daniel Shepard and Keith Shepard (also brothers) a few questions about their baby, the animated one. ENJOY!
COMEDY CAKE: Where did you come up with the idea for Swimming lessons?
DANIEL: It came from a few places. Keith and I were lifeguards and taught swimming lessons for a thousand summers at our hometown pool. That was the foundation. But the true concept came out of us drunkenly asking, "has anyone done a series about a pool?"
KEITH: And out of all the drunken questions we've asked each other, that's the one we developed a show around.
DANIEL: Yeah, it could've been a lot worse. So we started developing this animated concept called The Pool (most original title ever) which was pretty much Bob's Burgers at a pool. "A quirky family runs a small town pool in the midwest" blah blah blah. And then out of that came this weird "uncle" character (heavily inspired by Louis CK) who was supposed to be the brother of the owner. He'd lost his job, his wife, his house and the only work he could get was at his brother's pool, teaching swimming lessons to a bunch of dysfunctional kids. So we started building this mess of a guy, and the kids he'd teach, and Swimming Lessons grew out of that.
CAKE: Who are your comedy inspirations?
DANIEL: (this list grows daily): George Carlin, Louis CK, Jonathan Winters, Gilda Radner, Christopher Guest, Mel Brooks, Martin Short, Gary Shandling, Lorne Michaels, Joan Rivers, John Candy, Gene Wilder, Bill Murray, Trey Parker, Matt Stone, Tina Fey, Amy Poehler, Ricky Gervais, Judd Apatow, Amy Sedaris, Greg Daniels, Patton Oswalt, Dennis Miller, Larry Miller, Every member of The State, Adam Reed, Loren Bouchard, Brendon Small, It's Always Sunny in Philadelphia (Dennis is my spirit animal). I'm cutting myself off. I could be here for days…
KEITH: It's just like Daniel to take all the good ones! I am not a fan of the word "ditto," so I'll say "same-sies." Though, I would also include Jimmy Fallon, Steve Carell, TJ Miller, Jake Johnson, Jason Bateman, Jenny Slate, Steve Agee, Brett Gelman, Paul Rudd, David Koechner, Ben Schwartz, Nick Offerman, and Wes Anderson.
CAKE: How did you get involved with Above Average?
DANIEL: My awesome agents at UTA, Ali Barash and Jonathan Levy, got me a meeting with AA in early 2013 but they weren't looking to pick anything up at the time. Fast forward to December 2013, AA said they were looking for new shows so I pitched them 4,000 animated concepts and they ended up liking Swimming Lessons.
KEITH: My awesome agents at nowhere got me a meeting with nobody in early never. I live in Springfield, Missouri. I blame myself.
DANIEL: I blame you, too.
CAKE: Do you think its easier to get away with edgier content through animation?
DANIEL: Yes. I think there's a ton of freedom in animation (which is why I love it). I think you can be VERY edgy and take things to a dark place and always have the "it's just a cartoon" excuse. The stuff that South Park, Family Guy, Moral Orel, Boondocks, Metalocalypse and Superjail! (to name a few) get away with is pretty nuts. That being said, there are definitely live action shows that push the envelope too. Nothing will ever compete with Oz. Holy shit that show. Jail is the wooooorst.
KEITH: Was Breaking Bad animated?
DANIEL: It should have been.
KEITH: I wouldn't know. I've never seen it.
DANIEL: Bruce Willis is a ghost.
KEITH: He was the bald guy, right?
DANIEL: He's all the bald guys.
CAKE: Can you tell us more about your past and future projects?
DANIEL: The first animated show I created was a 5-part web series called Chicks on a Bench about two best friends who sit on a park bench and talk about anything that comes to their warped minds. The girls were voiced by my fiancee, Danielle Scherr (Bloody Mary in Swimming Lessons), and Lindsay Simon (Dear Baby Jesus in Swimming Lessons). The original tagline was "an animated Laverne and Shirley for the hipster generation." But now that Broad City has come out it's pretty much an animated version of that. The concept was sold to MTV early last year. I wrote a pilot for it and really hope we get the chance to make it because it's pretty damn funny.
KEITH: I've read the script with both of my eyes, and I can confirm that it is, indeed, "damn funny."
DANIEL: Aw shucks. Thanks buddy.
KEITH: Be careful, if your head gets any bigger, not even Rogaine will help.
DANIEL: Lame.
KEITH: Just say, "What's Rogaine?"
DANIEL: What's Rogaine?
KEITH: It's the stuff that comes out of your butt after you've had too much McDonalds…
DANIEL: Zing! The next series we're doing is called Dogs in a Park. It's an animated series that follows the water cooler conversations between dogs at the Tompkins Square dog park in NYC. It's very much in the vein of Dr. Katz and Home Movies in tone (loosely scripted scenes that leave lots of room for improv). We've been writing for a few months now and we're in the early stages of casting. We want it to feel like we have a mic on in a writers room – except the writers are all talking dogs.
KEITH: We were going to call it Cats in a Park, but cats are awful and wouldn't know what to do in a park–besides get eaten by a dog.
DANIEL: That's an episode. Write that down.
KEITH: I don't have a pen.
DANIEL: What are you good for?
KEITH: You sound like mom.
DANIEL: Mom would be the meanest cat.
KEITH: And now I'll have a new nightmare tonight…
DANIEL: After that we're probably going to make Simian's Castle (working title), an animated comedy where Game of Thrones meets Monty Python and the Holy Grail…with monkeys. Short synopsis: In a small, Kansas town, there is a Zoo. Within this Zoo there is an island. On this island there is a tiny castle. And in this tiny castle there is a kingdom of monkeys who rule the Zoo like they're living in the middle ages. From bloody wars with honey badgers to epic, cross-species, love triangles – Simian's Castle is 50% melodrama and 50,000,000% monkey drama.
KEITH: It will be the greatest thing we ever do.
DANIEL: It's going to be bat shit. The concept is actually based on a real place that exists in our hometown zoo called Monkey Island. There's literally a castle filled with monkeys on a tiny island surrounded by a moat. It pretty much writes itself.
CAKE: THANKS GUYS! I want to go to Monkey Island now.
Mentions: We can't wait to watch everything these siblings dream up! Check out more Woodland View Production creations HERE.