Tasty News: Laugh And Inside Voice Scream A Little as Shannon Brown Brings You Her New Podcast THIS WILL SCARE YOU
We are quickly approaching the scariest time of the year, so it's only appropriate that I point out a podcast that lives in the Halloween adjacent realm. THIS WILL SCARE YOU is a podcast brought to you by LA-based writer and comedian, Shannon Brown, who started her career in sketch and improv comedy and has stretched out her entertainment tentacles into writing and directing shorts. In her new podcast, she brings you all things scary, paranormal, creepy, and ALL allegedly true. Each week you can expect a new guest who gets a heavy dose of tales that can only be described as unexplainable and extraordinarily unnerving, but downright interesting. To date, Shannon has welcomed comedians, filmmakers, podcaster, and plain ole', lovely regular folk to the program, including Jen Curcio, Frank Castillo, & Jay Light.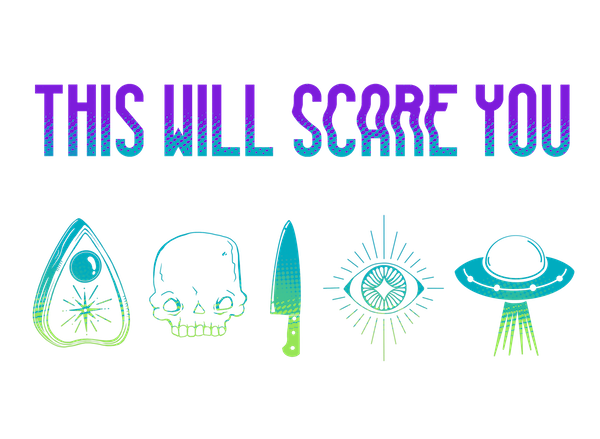 So how scary are we talking? Well, from the get go you'll be feeling the insect strings at your neck as Shannon discusses Doppelgängers, those biologically unrelated look-alikes of a living persons. YOU try resting soundly knowing there are seemly sane people out there seeing their relatives behaving strangely only to discover those were doubles capable of otherworldly mischief, horror, and premonition. Wait! You can't run out the room yet. One creepy subject just isn't enough for your podcast's premiere episode. Shannon also covers her guest's family trip to the Lizzie Borden House because EVERYONE takes pleasure in vacationing at murder homes. The guest's family may have made it through the night at murder central, but some other guests didn't fare as well in Salem's haunted victim room. I have the feeling Wednesday Addams would get a good chuckle out of that haunting excursion.
In the current episode of the podcast, a coven of art historians, teachers and pals virtually congregate to discuss hexes. You may never look at your walls the same way again. Not because that wall paper is atrocious, but because one Pennsylvania family doing home renovations discovered "artifacts" (code for super disturbing newspaper-wrapped stuff of nightmares) that were used in common Dutch folk magic rituals. Well, that's comforting! Not only will you learn all about this Pow-wow (also known as Brauche or Braucherei) blend of folk religion and healing charms, but you will discover how quickly one can unwittingly confuse pentagrams and pentagons. Oopsie! We we've your life a little bit simpler and so much more frighteningly funny by including all FOUR of the released This Will Scare You episodes. We shouldn't be the ONLY ones losing sleep these days. Join in the spine-chilling fun! ENJOY!
Episode One: Doppelgängers and A Ghost at The Lizzie Borden House
Episode Two: The Dybbuk Box, Post Malone's Curse, and A Haunting in Mexico
Episode Three: The Comedy Store Haunting
Episode Four: The Pennsylvania Hex House Murder and A New Jersey Haunting
Mentions: Check out future episodes of the pod on Apple Podcasts, Spotify, and Instagram. More info at thiswillscareyou.com. More about Shannon HERE. New episode "Scrying Gone Wrong And A Toy Stealing, Gum Chewing Ghost" drops TOMORROW!