Quick Dish: Bring Your Bottoms to Butt Stuff at Tela Fiera FRIDAY 6/27

Get your mind out of the toilet already! TOMORROW, June 27, the BUTT STUFF comedy show puts on it's last show at the Tela Fiera venue in Atwater Village. Hosted by Lauren Brown and Jackie Preciado, this monthly stand-up and storytelling show really delivers butt-clenching laughs. Be sure to stop by and say "Happy Birthday" to host Lauren Brown. Also, enjoy comedy from
ALISON STEVENSON
PAUL DANKE
JONATHAN ROWELL
JAMES FRITZ
CLARE O'KANE
MATT INGEBRETSON
RHEA BUTCHER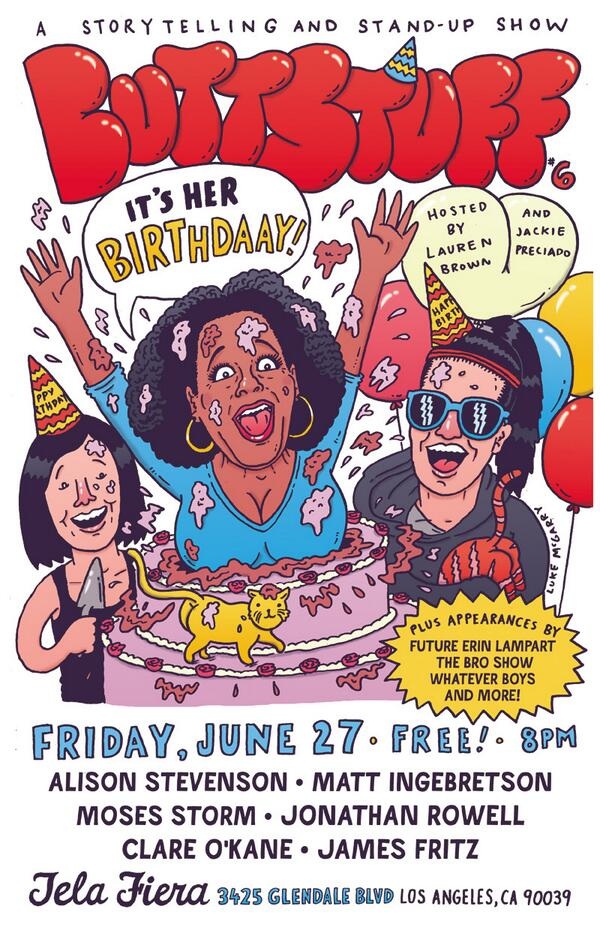 Plus appearances from a few past Butt Stuffers:
THE BRO SHOW (Curt Neill & Cornell Reid)
The WHATEVER Boys (Eric Dadourian & Allen Strickland Williams)
Future ERIN LAMPART
AND MORE!!!
Mentions: Show 8pm. Admission is FREE! Save your dinero for food truck fare, $5 cups for booze and a gift for the host (if you're a decent human being). Tela Fiera is located at 3425 Glendale Blvd., Los Angeles. FYI, vintage shop Tela Fiera is relocating to the South Bay Area.