Quick Dish Quarantine: All Aboard The 'HORROR EXPRESS' with The 2021 Premiere Episode of HOFF'S PUBLIC DOMAIN HORRORFEST 2.10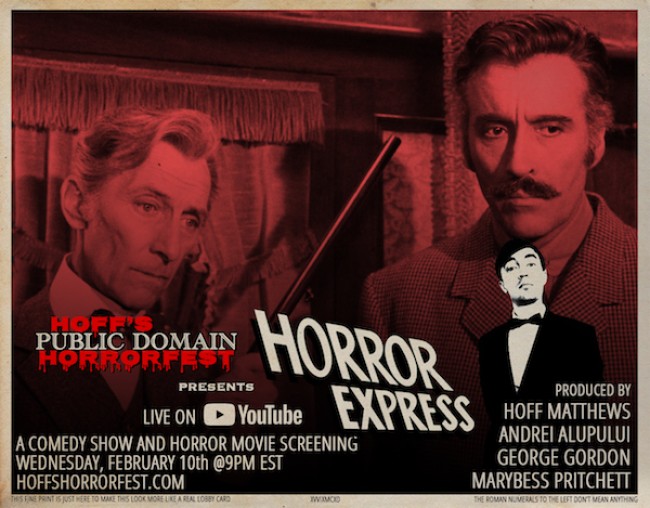 You know what February means? More Galentine's chocolate and self-bought flowers? Yes, THAT, but also horror movie season! Not only do you get the winter chills, you get the equal thrills of a brand new year of Hoff's Public Domain Horrorfest. Yay! Wednesday, February 10th the montly series will open with a screening of the 1972 sci-fi adventure HORROR EXPRESS starring Christopher Lee, Peter Cushing and Telly Savalas. It's time for some Panic on the Trans-Siberian as an anthropologist and his rival "must contain the threat posed by the former's cargo: a prehistoric ape which is the host for a lifeform that is absorbing the minds of the passengers and crew." Who knew a career in anthropology could be both exciting and terrifying? This cinematic ride will be riddled with new comedy segments, games, and the musings of your host Hoff Matthews (Comedy Central). Monsters and murders and explosions, OH MY! Don't miss out!
Mentions: Show 9pm EST. FREE! YouTube Livestream link HERE. More fest info at www.hoffshorrorfest.com. Follow the show on IG. This show is co-produced by Andrei Alupului (Come Ova, UCB), Marybess Pritchett (An Inconvenient Talk Show), and George Gordon (Your Good Friend).