Quick Dish Quarantine: YOUR LATE NIGHT SHOW TONIGHT Hosted by Fizaa Dosani This Friday on Nowhere Comedy Club's Zoom
Don't call it a comeback, call it a new installment of YOUR LATE NIGHT SHOW TONIGHT! TOMORROW, February 19th on the Nowhere Comedy Club Zoom, you will be treated to a a livestream featuring your favorite comedians and celebs hosting their very own, completely new and original talk show in their own voice and POV. This go-round, comedian Fizaa Dosani (Facial Recognition Comedy, Dear White People) will be the host extraordinaire, welcoming fellow comic and guest Taylor Tomlinson (Quarter Life Crisis) to the program. Dosani is a touring (when that was a thing) stand-up comedian, actor, and writer born and raised in Florida. She created Facial Recognition Comedy in 2017, which featured bicoastal residencies in LA and NYC showcasing diversity within marginalized demographics. Facial Recognition also a weekly podcast of the same name. Fizaa has also had roles in movies and TV programs like Dear White People, How To Get Away With Murder, & Snowfall on FX.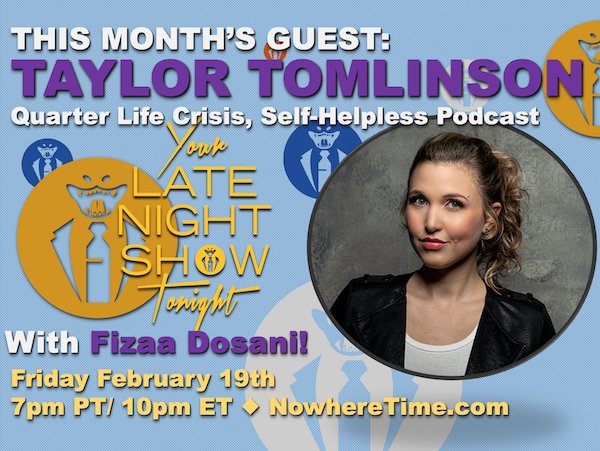 Guest for the evening, Taylor Tomlinson made her Netflix debut on The Comedy Lineup in 2018, and had her own hour-long Netflix special, Quarter Life Crisis, in 2020. She was a top ten finalist on the ninth season of NBC's Last Comic Standing in 2015, was named one of the "Top 10 Comics to Watch" by Variety at the 2019 Just for Laughs Festival, and was also one of the youngest headliners on tour with appearances on The Tonight Show, Conan, and Comedy Central. Taylor currently co-hosts the podcast Self-Helpless with stand-up comics Kelsey Cook and Delanie Fischer. Don't miss Taylor and Dosani combining their super talents TOMORROW online!
Mentions: "Your Late Night Show Tonight" happens 2.19 7pm PT/ 10pm ET on the Nowhere Comedy Club's Zoom. Tickets $10-$50. *This show is limited, so don't wait to purchase your ticket.* Your Late Night Show Tonight is produced by Gil Baron (Comic Relief,) Pauline Ekholt, Dempson Juvenal and Ben Kuerschner (The Tonight Show). Follow Taylor HERE, Dosani THERE, and YLNST OVER YONDER.