Quick Dish Quarantine: 'THE MADS' Announce Their Official YouTube Channel plus March Livestream News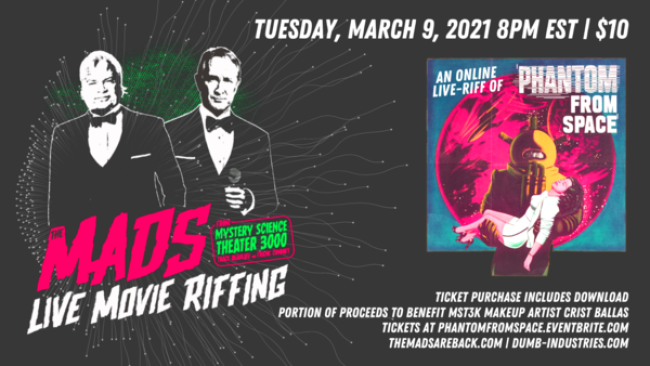 Hey kiddoes, we have some major comedy news for you. The Mystery Science Theater 3000 stars Trace Beaulieu ("Dr. Clayton Forrester") and Frank Conniff ("TV's Frank), known as "The Mads," have launched an official YouTube channel! *confetti flies* The channel, currently features nine shorts that were riffed on during the October 2020 livestream, The Mads: A Night of Shorts. And that's just the start! The new channel will be home to their series of monthly ticketed livestreams that began in July of 2020, and will be regularly updated with selections from past events. *party horn sounds*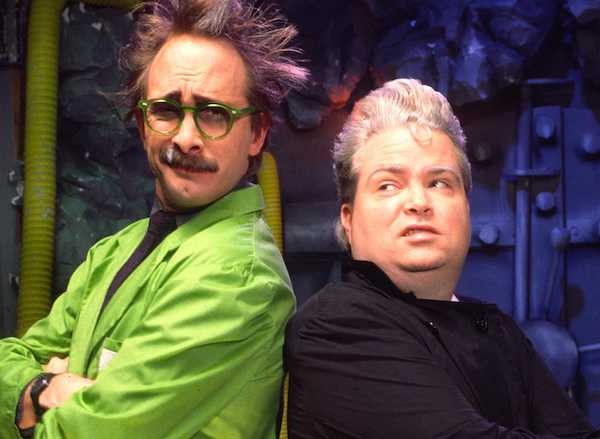 OK, now that you've gotten your breath back from jumping up and down. Yeah, maybe it was a bad idea to stop exercising for the duration of the pandemic. Anyhoo, The Mads have also announced their upcoming livestream which will take place Tuesday, March 9th. The duo will riff over the 1953 black and white "quickie" low-budget sci-fi film PHANTOM FROM SPACE in a format similar to MST3K, inviting viewers from all around the globe to watch together in real time. Phantom from Space was produced and directed by W. Lee Wilder, and follows a group of FCC investigators who arrive in the San Fernando Valley after reports of a flying saucer crash emerge. The team quickly comes face to face with a horrifying, invisible threat (that's dangerous in more ways than one). Gulp. This event will mark the first time Beaulieu and Conniff will publicly be riffing on the film. There's a first for everything!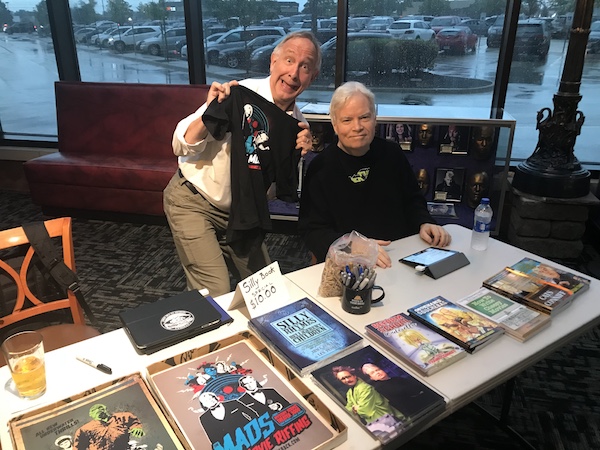 Tickets are on sale now for $10 with a portion of the proceeds benefiting the MST3K makeup artist Crist Ballas, who needs assistance with medical costs incurred during a recent and unexpected week long hospital stay. Read more about Crist and donate directly to his GoFundMe page here. Following the movie, Beaulieu & Conniff will conduct a Q&A for viewers along with a very special guest to be announced shortly. Previous guests of the livestreams have included Victoria Price (daughter of horror legend Vincent Price), Jonah Ray (host of Mystery Science Theater 3000), Dana Gould (Stan Against Evil), Andy Kindler (Maron, Bob's Burgers), J. Elvis Weinstein (writer for Mystery Science Theater 3000), Mary Jo Pehl (writer and performer on Mystery Science Theater 3000) and Rich Koz (host of MeTV's Svengooglie). Now go check out those Perseverance rover images for signs of alien friends, right after you buy your tickets. Cheers!
Mentions: Livestream show 8pm EST 3.9.21. Get your $10 tickets HERE. All ticket holders receive a link to download a recording of the show afterwards, as long as tickets are purchased prior to the broadcast. Subscribe to The Mads YouTube channel to keep up with the latest content from The Mads.