Quick Dish Quarantine: Check Out Another Golden Set of Lineups with This Week's SELF-CARE COMEDY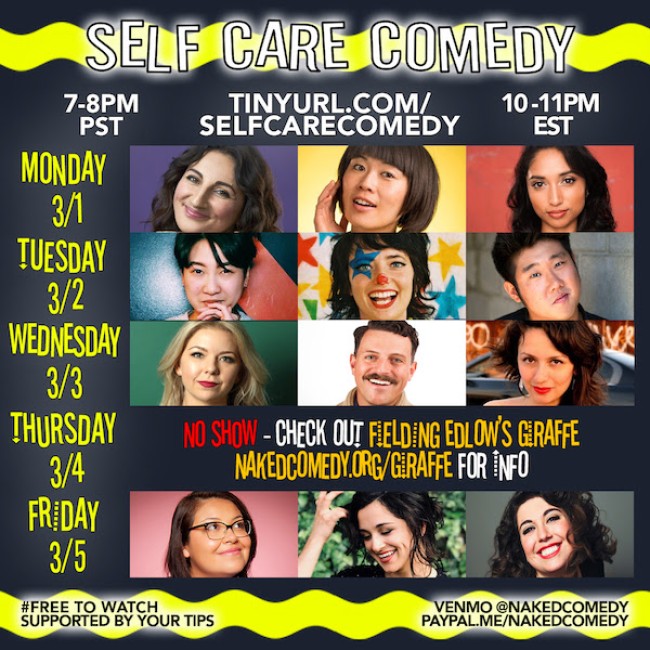 Can you believe it's already March? February was dramatic enough with Lady Gaga's dog-napping attack! Here's hoping the Ides are a little more kind to us than they were last year. *shudders* I can at least promise this week's SELF-CARE COMEDY offers a comedy pot of gold at the end of each week night. Your lineup for the week includes performances from:
Monday 3.1 Deanne Smith hosts Steph Tolev, Atsuko Okatsuka & Subhah Agarwal
Tuesday 3.2 Sofiya Alexandra hosts Jes Tom, Sarah Squirm & Peter Kim
Wednesday 3.3 Anna Valenzuela hosts Lisa Curry, Chris Fairbanks & Kat Toledo
Thursday 3.4 NO SHOW (check out Fielding Edlow's Giraffe instead)
Friday 3.5 Sean Keane hosts Vanessa Gonzalez, Sara June & Jenny Zigrino
Have fun!
Mentions: All shows 7pm PST/10pm EST. Zoom link HERE (Meeting ID: 840 2706 9654). $10 per show tip suggestion. Tip/donate to pay the performers, hosts and producer at Venmo @nakedcomedy or PayPal.Me/NakedComedy or CashApp $nakedcomedy or Eventbrite.com/e/self-care-comedy-tickets-138026231173. Follow Naked Comedy THERE.