Quick Dish Quarantine: Learn All The Juicy Details of "Keith and The Girl's" Virtual KATG Week 2021 Happening April 14-18
Spring is here. The flowers are blooming. The birds are chirping. Everyone's slowly getting their vacc jabs, ouch! Things are finally looking up, so why not do some celebrating of life with KEITH and THE GIRL for an entire week! Wednesday, April 14 through Sunday, April 18th Keith Malley and Chemda will host the Virtual KATG Week 2021 completely remotely, for the second year in a row. The events slated for this KATG extravaganza will include a live KATG podcast recording, a Silent Trailers Game Show livestream, a KATG Movie Night, KATG VIP Night, and a KATG Private Chat and game night. Yes, you may briefly pause reading this for a "WOW" break!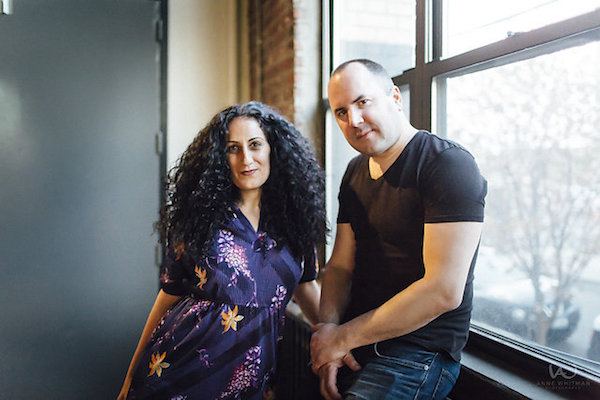 The week will kick off Wednesday, April 14th at 8pm ET, with the live KATG Show featuring guests Christian Finnegan (Chappelle's Show), Ophira Eisenberg (NPR's Ask Me Another), Kevin Allison (The State) and more. Thursday, April 15th, (same bat time) KATG will host another edition of Silent Trailers! If you recall, at the March edition of Silent Trailers the team of Pete Holmes, Chris Gethard, Mara Wilson, and Michael Ian Black took down the god of movie knowledge, known as Keith, in a spectacular fashion. Will Keith make a comeback for this special ST event featuring the likes of Doug Loves Movies' Doug Benson and the legendary Gilbert Gottfried? We shall see!
Friday April 16th (you know what time) Keith and Chemda will host KATG Movie Night, where fans can watch a to-be-announced movie along with Keith, Chemda, and comedians Mike Lawrence (@midnight) and Kyle Ocasio (Sirius XM), as they provide comedic commentary throughout. The weekend events will include a KATG VIP Night on Saturday, April 17 (time is an illusion), a live taping of KATG's slate of spinoff podcasts, and KATG Private Chat & Game Night on Sunday, April 18 @ 2pm ET (gotcha!), where fans can hang out with Keith and Chemda, play poker, and get the chance to win prizes like backstage passes to ALL of 2021's Silent Trailers livestreams and a free month to Chemda's OMAT Club. Now that's a prize!
Tickets for all events are now on sale with the option to purchase "backstage" passes and witness the inner-working of the shows. KATG VIP members will get FREE access to al the events. Ticket links below!
Mentions: Access tickets for all events HERE! KATG are releasing new episodes daily, in addition to weekly Wednesday hangouts with fans & monthly Silent Trailers livestreams. Chemda also offers virtual meetups for her OMAT Club, a program she personally designed as a way to turn negative patterns into positive habits. LISTEN to KEITH AND THE GIRL on:
Apple Podcasts, Spotify, Google Podcasts, and Stitcher.