Quick Dish Quarantine: New York's West Side Comedy Club Presents CURBSIDE COMEDY April 21-24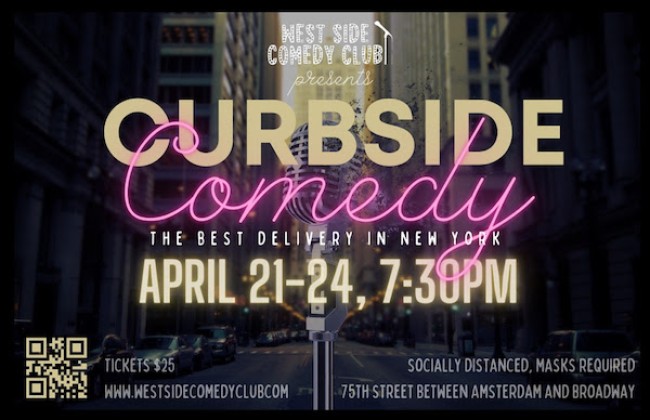 New York's WEST SIDE COMEDY CLUB will be open for business once allowed to seat at 50% capacity and, of course, once everyone has had their go at the needle stab, BUT that doesn't mean the comedy has to stop. April 21st to the 24th enjoy some very LEGAL laughs in the streets with Curbside Comedy. The audience will be socially distanced and masked right outside the West Side Stage Door on 75th street. Enjoy four days of top notch laughs from your favorite funny people. The lineup will be as follows:
Wednesday April 21: F Comedy Club alums and rising stars reunite for a best of Fest featuring Olga Namer, Jay Jurden, Zarna Garg, Kate Sisk, Pete Stegemeyer, Natalie Perlin, Brett Singer, Ben Asher, and Linette Palladino.
Thursday April 22: Be a part of "Funny People," a new comedy show brought to you by Felicia Madision and Periel Aschenbrand featuring some talented laugh makers, including Danny Cohen, Eagle Witt and more.
Friday April 23: John Campanelli and Friends!
Saturday April 24: Enjoy a stellar lineup on West Side's MVP show featuring Bonnie McFarlane, Erin Jackson, Ranaan Hershberg and Jocelyn Chia.
Get some fresh-ish air and stress relief with FOUR days of stellar comedy. More details below.
Mentions: All lineups 7:30pm – 9pm. Ticket info HERE. No food or alcohol will be served. Masks required. Follow venue happenings on Instagram.