Video Licks: Get Out of The Water & Enjoy The New Short from The MST3K Mads "Overcoming Fear"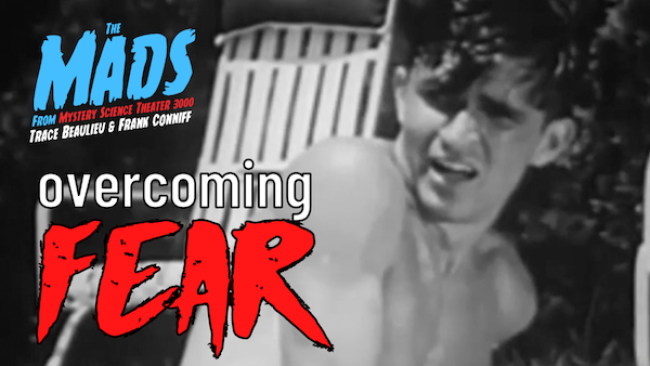 Mystery Science Theater 3000 stars Trace Beaulieu ("Dr. Clayton Forrester") and Frank Conniff ("TV's Frank), known collectively as " The Mads," have a NEW video out on their official YouTube channel called, OVERCOMING FEAR. The Coronet educational short was created in 1950 and tells the tale of a fella who must overcome his fear of swimming in a pool. Can you imagine if Michael Phelps was as leery of the blue depths as this lad? We might have never learned the wonders of cupping! OK, back to our regularly scheduled programming. The new short comes to you fresh off the announcement of The Mads' next livestream. The highly esteemed event happens Tuesday, June 8th featuring a screening of sci-fli flick The Lost Missile. The twelfth online spectacular is produced in collaboration with Dumb Industries and will find Beaulieu and Trace riffing on the 1958 low budget movie starring a young Robert Loggia. A portion of the proceeds from the June event will benefit the Friends in Need Food Shelf in Minneapolis. This one is not to be missed! Now get to watching (and, please, no drowning). Olympics, here we come!
Mentions: Tickets to the June 8th THE MADS: The Lost Missile event HERE.