Quick Dish: TONIGHT Have a Ball at Comedy Palace LA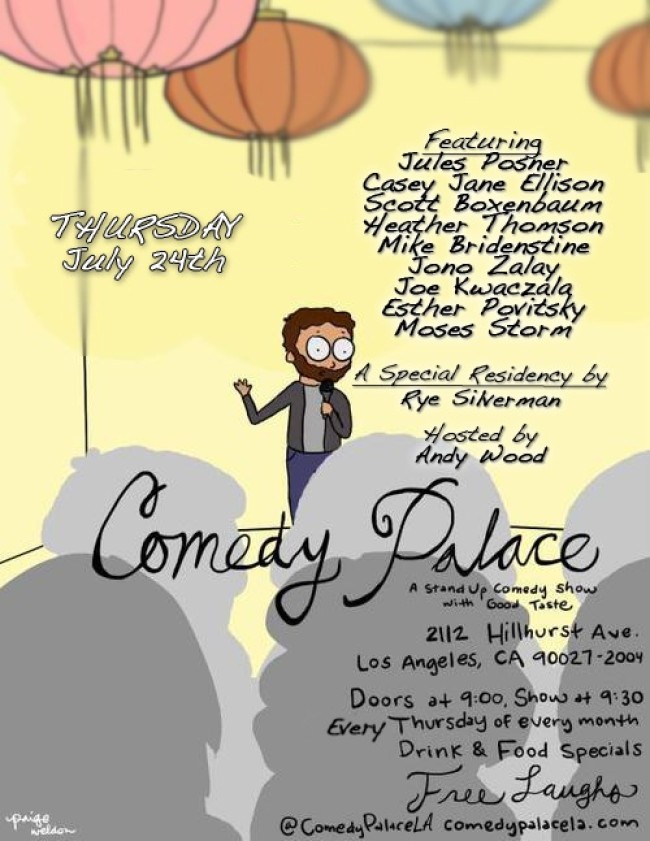 It's LA's "best, newest and big name comedians" bringing on the funnies tonight (July 24) at COMEDY PALACE. This week you can see folks from Comedy Central, MTV, Funny or Die, The Onion and more. Also, there will be a special residency spot by RYE SILVERMAN from Women of Comedy, Recycled Babies, and Huffington Post. Here are the funny folks who will join in on the fun:
Jules Posner (SF Sketchfest, No Drink Minimum)
Casey Jane Ellison (Status Update, What the F*shion)
Scott Boxenbaum (Ventura Comedy Festival, A Stand Up Guy)
Heather Thomson (Print Models, Bridgetown Comedy Festival)
Mike Bridenstine (Roast the Week, Bridgetown Documentary)
Jono Zalay (Bridgetown Comedy Festival, Comedy Central's Up Next)
Joe Kwaczala (The Late Live Show, The Onion News Network)
Esther Povitsky (Brody Steven's Enjoy It, Hot Chicks with Esther)
Moses Storm (Funny or Die, The 4 to 9ers)
Hosted by COMEDY PALACE's own Andy Wood!
Thursday's hottest weekly FREE comedy show just got super spicy. Support live comedy!
Mentions: Doors 8:30pm. Residency spot 9pm. Show 9:30pm. The Palace is located at 2112 Hillhurst Ave., Los Angeles. Full bar WITH DRINK SPECIALS! Great Chinese food! Parking! RSVP on Facebook.