Quick Dish NY: NEW One-Woman Show INFERNO Will Burn The Place Down with Laughs 9.1 at Caveat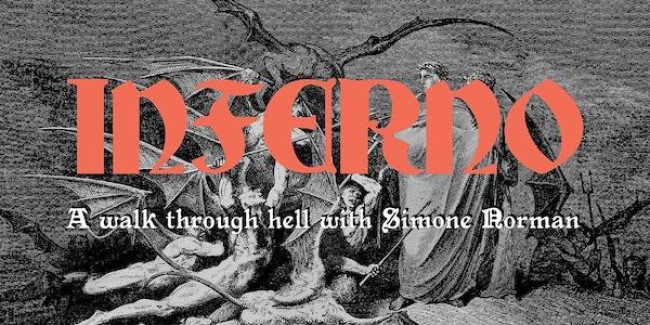 This may be the one time yelling fire in a crowded room is appropriate. Join actor, writer, and Brooklyn based comedian, Simone Norman (Eleanor Palmer on the Emmy-nominated Stephen Colbert Presents: Tooning Out The News) as she takes you on the comedy walk through Hell, now know as INFERNO. The NEW ONE-WOMAN SHOW will feature Simone using her mortal powers to assume the role of Virgil (the bloke that was conveniently Dante's guide in Hell) guiding the audience through those perpetually damning levels of "eternal divine retribution." On this journey, the adventurers will run into "damned souls who reside below, and hear their takes on the sins they committed during their corporeal stay. As burrow further down into the hellish depths, "the boundaries between our reality and the afterlife" will begin to blur. Neat! Don't miss a hot minute that includes special guest opener, Christi Chiello (Planet Scum Live!). Let the chaos commence!
Mentions: Doors 9pm, Show 9:30pm ET. $15 in advance / $18 at the door / $7 virtual tickets. Location: Caveat, 21A Clinton Street, Manhattan, NY 10002. SUBWAY: J to Bowery, B/D to Grand St. Proof of vaccination for COVID-19 is required for entry to the venue. An Excelsior pass or vaccination card are both acceptable. The show was directed by Nat Towsen.