Quick Dish Quarantine: TOMORROW 'The Mary Jo Pehl Show' Presents: MOVIE JO NIGHT with MST3K's Mary Jo Pehl
Can you believe folks are already putting out their Halloween decorations? I CAN because we all crave some spooky entertainment this time of the year! If you want to combine those seasonal chills and thrills with some bonified laughter, then you'll be keen on this news. TOMORROW join Mystery Science Theater 3000's MARY JO PEHL for MOVIE JO NIGHT, an unscripted Amazon Watch Party on Twitch! Everyone will be focused on the 1975 made-for-TV mystery horror film, directed by Sutton Roley, where a US Coast Guard helicopter is sent to answer a distress call from, wait for it…. the Bermuda Triangle! SATAN'S TRIANGLE may not be a polygon you ever want to find yourself tangled up in, but as far as Twitch watch parties go, it's perfection. Be a part of the fun TOMORROW!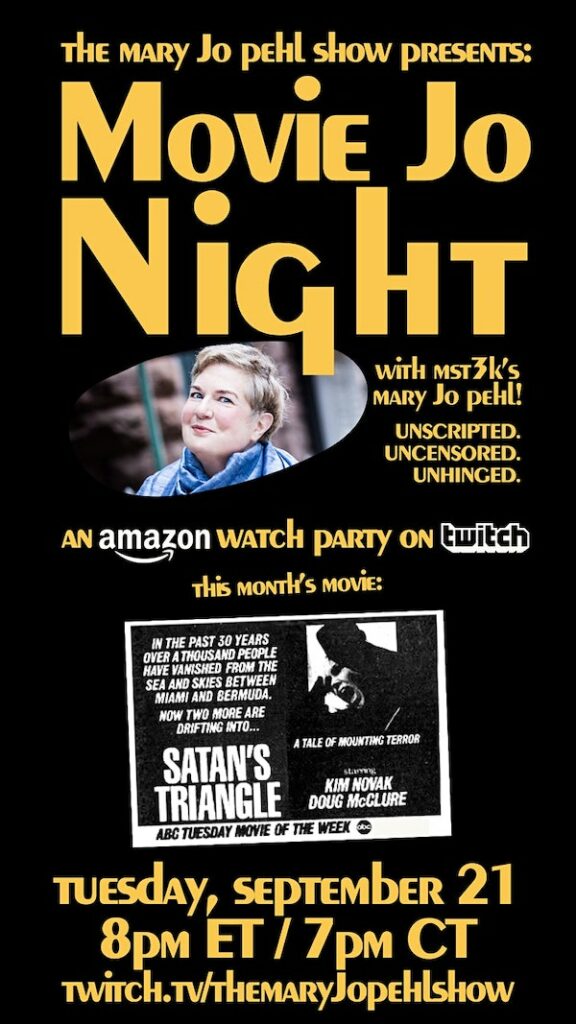 Mentions: Show 8pm ET/7pm CT. FREE, register HERE. An Amazon Prime subscription is required to watch the movie in sync on Twitch. You can signup for a free 30-day trial of Amazon Prime here. THIS EVENT WILL NOT BE RECORDED OR OFFERED AS A DOWNLOAD FOR LATER. You can ONLY watch this event via the live broadcast. The next The Mary Jo Pehl Show is September 28!