Quick Dish Quarantine: Join THE MADS for A Live-Riff of "Voyage to The Planet of The Prehistoric Women" 11.8 Online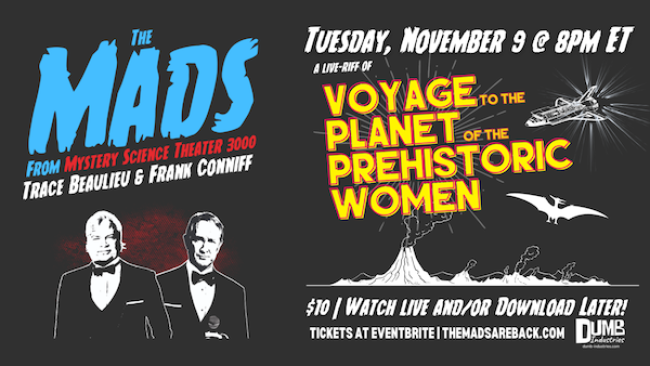 Time to take a break from wrapping your head around the concept that is the Island Boys for a sec to get ready for some sweet MADS news. Tuesday, November 9th, Trace and France will riff on the 1968 sci-fi flick, Voyage to The Planet of The Prehistoric Women (wonder where they got that title from) where astronauts visiting Venus find out what happens when they mess with a creature local alien inhabitants worship. After the Mystery Science Theater 3000 stars have their way with the movie, they will invite the audience to stick around for a post-show Q&A that includes a very special guest. If you are a sucker for bad cinema, fresh banter and witticisms, this is the event for you! More info below.
Mentions: Show 5pm PST. Event info HERE (just $10 and includes a download of the entire show if you can't watch it live). A portion of the proceeds from this event will benefit Friends In Need Food Shelf in Minneapolis.