Quick Dish Quarantine: The Original MST3K Mads Live-Riff Indie Horror Flick MANOS: THE HANDS OF FATE 12.14 Online
In case you are looking for the ultimate pick-me-up, Trace Beaulieu ("Dr. Clayton Forrester" and the original "Crow T. Robot") and Frank Conniff ("TV's Frank), the original "Mads" of Mystery Science Theater 3000, will be revisiting "the notorious 1966 low-budget film most infamously riffed on by Joel Hodgson and the bots in a now-classic 1993 episode of MST3K" MANOS: THE HANDS OF FATE!!! So when will this grand event be happening?!!! Online Tuesday, December 14th, marking the first The Mads have watched the film in 27 YEARS (when the original MST3K episode was taped for Comedy Central)! Yowsers! And WHO will be joining Trace and Frank for the post-riff Q&A event? None other than JACKEY NEYMON JONES, the actress who portrayed "Debbie" in the film! In 2016 Jones wrote a book about her experiences working on the film, Growing Up with Manos: The Hands of Fate: How I Was the Star of the Worst Movie Ever Made and Lived to Tell the Story. Also, Jones' father, Tom Neyman, starred in the film as "The Master."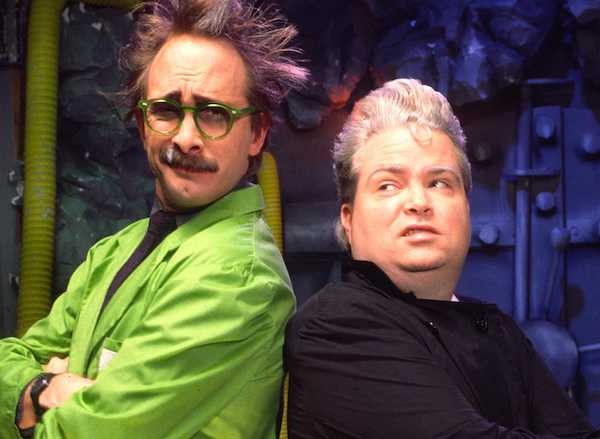 For the uninitiated (that includes yours truly), according to Wiki, the plot "revolves primarily around a vacationing family who lose their way on a road trip. After a long drive in the Texas desert, the family find themselves trapped at a lodge maintained by a polygynous pagan cult led by a man known only as 'The Master,' and they attempt to escape as the cult's members decide what to do with them." Is this Wild Wild Country doc plot? Never you mind! Fans will be able to reminisce about Torgo (portrayed by then LSD influenced actor John Reynolds), a "bizarre, satyr-like" character who has held great fascination for fans over the years, due to his wickedly bizarre antics during Manos. If that's not crazy enough, in 2011, the original 16mm workprint of MANOS was discovered by Ben Solovey, a Florida State film school graduate, in a collection of 16 mm films. Solovey went on to finance a 4K restoration of the film via Kickstarter, and has generously granted The Mads permission to use his restored print for the livestream! Triple WOW!
Last but not least, this glorious event will be produced & hosted by founder of Dumb Industries, Chris Gersbeck. Tickets for THE MADS ARE BACK: MANOS: THE HANDS OF FATE are on sale now! Check out the teaser trailer (also viewable on The Mads' official YouTube page) below:
Mentions: Show 8pm ET/5pm PT. Tickets are on sale for $10, with all ticket holders receiving livestream access to the event as well as a download of the entire program within 24 hours of the broadcast ending. Downloads of the show will only be offered to those who purchase tickets by 11:59pm ET of December 15, 2021. A portion of the proceeds will be donated to the Friends in Need Food Shelf in Minneapolis, Minnesota, the city where MST3K was created and where many of its cast members still reside.