Quick Dish LA: "SANDS by Willa" One-Night-Only "Succession" Comedy Play THIS SUNDAY 12.4 at Lyric Hyperion
If you watch the HBO satirical black comedy-drama TV series known as Succession, you may recall the Broadway play written by the aspiring playwright Willa, Connor Roy's girlfriend. And what was the name of that play? Like *fill in the blank* through the hourglass…SANDS, it was SANDS! Now series fans, or people who didn't understand any of what I just typed, can be privy to what not only goes on onstage, but also find out what happens backstage! Yes, it's a mix of "Noises Off," and "Succession" fanfic, as well as "a love letter to boy the Roys and Broadway." The audience can expect to see the behind-the-scenes at opening night, when all hell breaks loose because the lead actress has run off to Dundee with her new billionaire boyfriend Kendall. Something also lurks in the SAND. It's mites, kids. It's damn sand mites. GAH! This show was performed in NY at Caveat and now YOU can be a part of the hilarious display that is SANDS by Willa THIS Sunday, December 4th at Lyric Hyperion. Don't miss all the drama (and the mites)!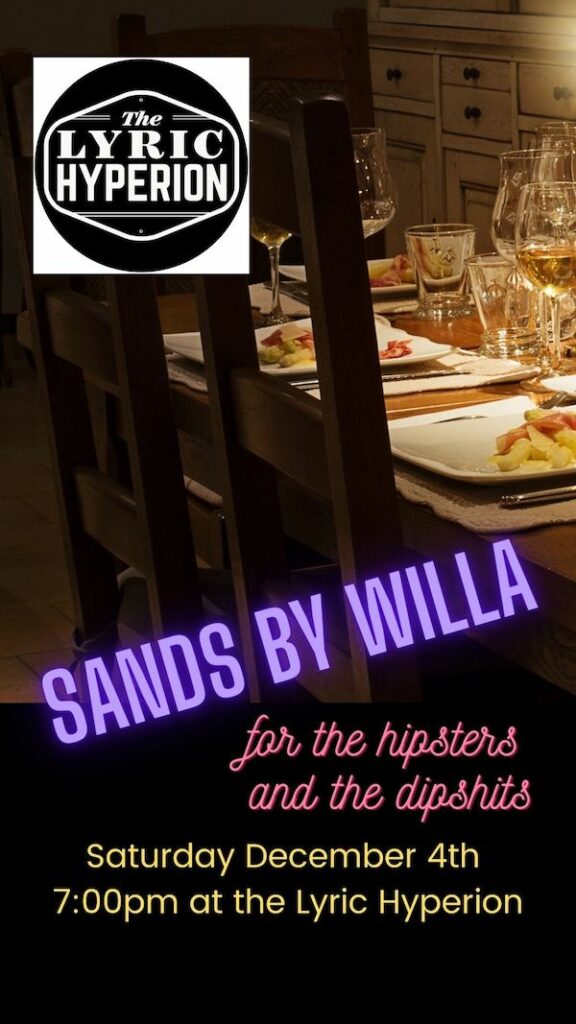 Mentions: Show 7pm PT. $18 tickets HERE (+ two item min). Location: Lyric Hyperion Theatre & Cafe, 2106 Hyperion Avenue, Los Angeles, CA 90027. More show info HERE. Follow performer & writer & author Ellen Haun THERE. Proof of vaccination required.