Quick Dish NY: TINDER LIVE with Lane Moore 1.22 at Littlefield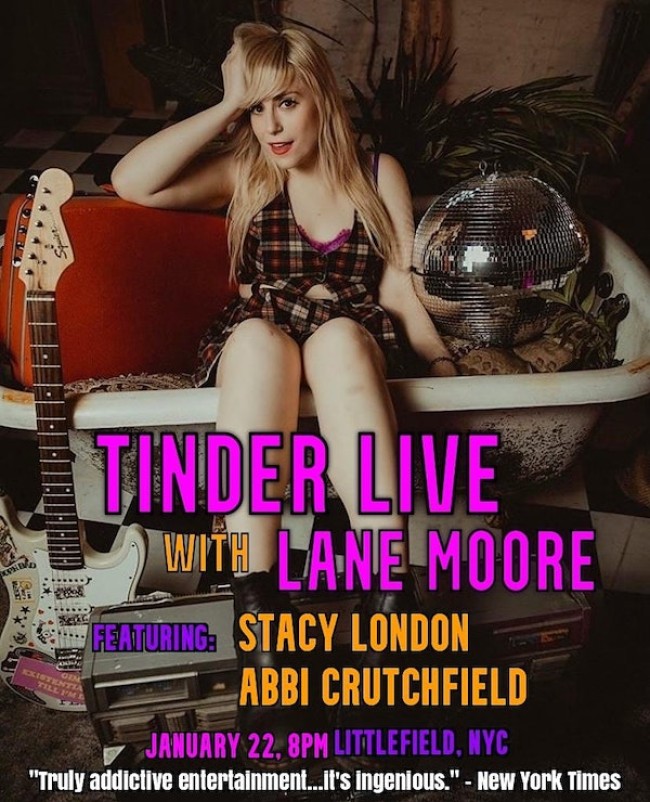 The holidays are over and that dreaded time of the year known as V-Day is fastly approaching, so what does that mean for singles and their pals? TINDER LIVE to the rescue! Join Lane Moore January 22nd at Littlefield where comedian Lane Moore (The Onion, HBO's GIRLS, Brooklyn Magazine's "50 Funniest People In Brooklyn," former Cosmopolitan Magazine sex & relationships editor) makes the dating app experience a little less ominous. Tinder Live show is a totally improvised, anything-can-happen interactive comedy showstopper with helpful and oftentimes ridiculous Tinder tips, tricks, real-time swiping, and messaging (and sometimes even real-time phone calls with Tinder matches)! The January show will include guests Stacy London (What Not to Wear), and Abbi Crutchfield (truTV's You Can Do Better) swiping live for the "totally improvised, Mystery Science Theater-but-with-dating-apps comedy event." If you can't get a laugh or a tip from this event, the dating app world may not be the place for you! Take the plunge into hilarious world of online dating this month!
Mentions: Show 8pm ET. Tickets HERE. Location: Littlefield, 635 Sackett Street, Brooklyn, NY 11217. The venue is an all-vaccinated event space. Follow the show THERE.