Icing: The Bald Truth Shines Through in A New Year of The BALD TALK Podcast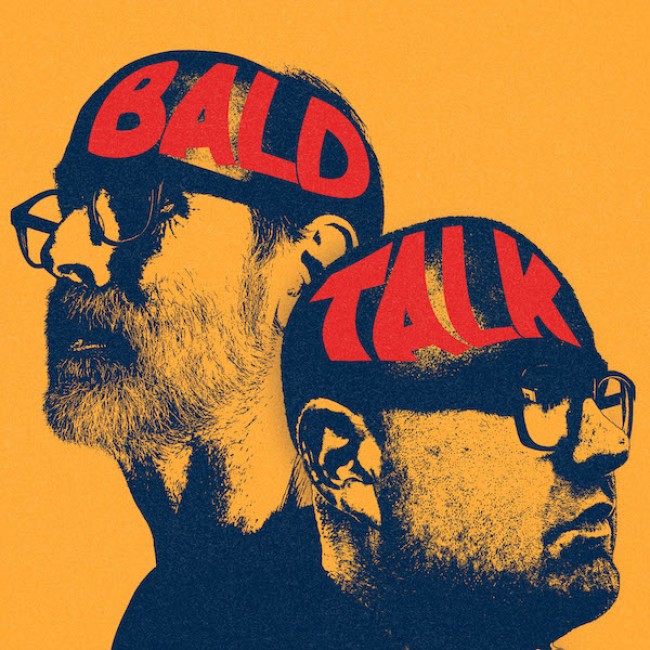 Hey kids, we just spent a good chunk of our lives listening to ALL the 2022 BALD TALK episodes (that's three to be exact), fueled by some very aged, yet delicious Girl Scout cookies. (Thank the heavens for freezers). On that note, can sugar make you lose your hair? Not sure, but we DO know that THREE episodes of the podcast that dives into the "bald spot" that is human "vulnerability, vanity, insecurity, self image and more" is GUARANTEED to make you both chuckle and ponder. Every episode, comfortably bald comedians, Brian Huskey and Charlie Sanders, interview celebs, actors, musicians, directors, and those willing to discuss being bald in practical, emotional, philosophical, and other ways we can't quite put to words. To date, 2022 finds the hosts talking to three equally hilarious guests, Pam Murphy, Aaron Shure and H. Jon Benjamin.
The year started out with the lads spending some generous time with their "talent crush," H. JON BENJAMIN, who you should audibly recognize as the voice of Bob, the cook and parent of Bob's Burgers, and intelligence agent Sterling Archer of Archer. It's not too surprising that Benjamin's deadpan delivery falls in line with his casual attitude toward balding. During the episode we get some insider scoop on the "very Canadian" production, People of Earth, which transitions into some even more fascinating talk on prop plane travel, the descent into major cities, the fear of flying, and, of course, bald pilots. The listener learns about Jon's transition to the bald side which, spoiler alert, per Bald Talk research, find he's among only THREE guests who were totally fine with it. That discussion is then followed by a DEEP dive into the rigors of commercial auditioning. Egad! No wonder professional actors are so thick skinned! You'd have to be, if you audition for months on end and don't get the part! And just when you thought the episode couldn't get any richer, the listener is treated to stories shared by one half of the duo of Benjamin and Jon Glaser (yes, there are fart sounds involved), that time the guest made a Jazz album with zero experience, and a quiz involving "bird nerd" knowledge. Wow, is 2022 off to a good start!
If you are thinking the Bald Talk pod was truly gifted with that H. Jon Benjamin episode, you'd be right, but you'd also be slightly wrong. The second episode of the year brings even more joy to the listener. The hosts have a delightful repartee with the Emmy winning writer (The Office, Everyone Loves Raymond), Disney "streetmosphere" performer, circus clown, and fellow baldie, AARON SHURE. Right off the bat, the listener gets some biblical lessons on the curses that befall those who taunt the bald. Let's just say, it involves SHE-BEARS! Gulp. The adventure of knowledge doesn't end there, though. We find out what it looks like to be as bald as a "camel cricket." We discover that most red heads have just 90K hair follicles (compared to us 100k normies)! The comforts of a freshly shaved head beneath a cashmere beanie are touted during the developing "cashmere chats" sub podcast. The hosts revel in Shure's telling of his circus performer days and how that role and others prepared him for his future profession in the writer's room. The episode kicks into high gear when the listener learns of Shure's shocking encounter with a circus chimp, and that time he performed with, insert dramatic gasp, flaming oozies for a special event. Aspiring writers will be treated to tales from The Office & Raymond writing bunkers, but ultimately, everyone will glean the lesson that the path to a successful career can be a windy one, achieved with or without hair.
The latest episode of Bald Talk finds Brian and Charlie talking to voice actor (Weird City, Krapopolis) and UCB improvisor, PAM MURPHY. Pam's bald journey may have just been over 10 months, but the entertainer managed to turn that brief transition story into an empowering one, having battled cancer successfully. Normally, every time the C-word is brought up in conversation, people cringe and zone out in a panic, but Pam's story is filled with blunt humor that soothes those listener apprehensions as she shares her bald journey. The hosts and Pam cover a lot of ground during the episode. The discussion cheekily starts off with Huskey revealing he was unaware Murphy even had cancer which leads to many a both serious and lighthearted thread including that time somebody almost got kicked out of SAG, past commercial work, being told chemo won't make your hair fall out, the wonders of wigs, that time there was a John McEnroe talk show, and the hardest job in showbiz. My favorite moment of the episode, however, had to be when Pam lost a chunk of hair, through no fault of her own or a disease, right before she was to go on camera. Let's just say, there's no amount of heat protectant that will stop hot metal singing off human hair! Do you smell that? Yeah, we smell it. There's no doubt everyone will relish this episode for it's honesty and humor.
If those episodes don't get you interested in truths of baldness and beyond, then you are just about the toughest nut there is to crack! For us softies, though, there are SO many more stories to look forward to, and we can't wait to stick the earbuds in for those future delights. Hope you join in on that endeavor!
Mentions: Listen to episodes of Bald Talk at Apple Podcasts. Bald Talk is produced by Campfire Media. Look for NEW episodes every Wednesday! Follow the pod THERE.