Quick Dish NY: TINDER LIVE! with Lane Moore VALENTINE'S DAY SPECIAL 2.12 at Littlefield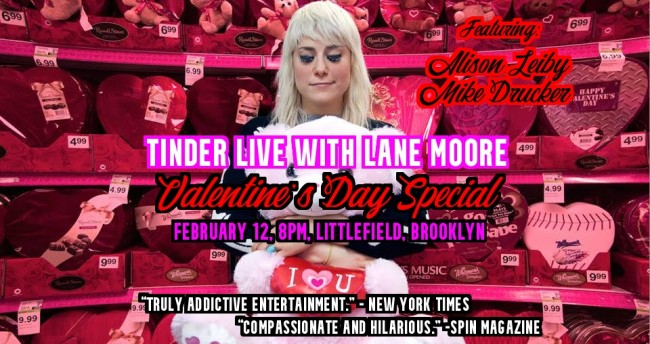 Love may be in the air, but, most of the time, that air is filled with smokey dread! Make your romance month a lot brighter by treating yourself to a new TINDER LIVE! at Littlefield in Brooklyn. Host Lane Moore (The Onion, HBO's GIRLS, former Cosmopolitan Magazine sex & relationships editor) will be sharing the stage February 12th with a bunch of special guests for A Valentine's Day Special. Head writer at Full Frontal With Samantha Bee, Mike Drucker, and writer for Marvelous Mrs. Maisel, Alison Leiby, will be swiping live with Lane on the most absurd profiles they can drum up, and then chatting live, for a totally improvised, "Mystery Science Theater-but-with-dating-apps comedy event." This is a MUST-SEE gathering that you can take your love buddy to (or NOT)! Enjoy!
Mentions: Show 8pm ET. Tickets HERE. Location: Littlefield, 635 Sackett Street, Brooklyn, NY 11217. Venue is an all-vaccinated space.