Quick Dish Quarantine: Giggle Your Way to Contentment with Some SELF CARE COMEDY Tonight on Zoom
And so it let be decreed that every Tuesday after a holiday will be deemed the day of necessary self-pampering via the comedy gods. TONIGHT get started on your trip to chill town for SELF CARE COMEDY is your destination. Deanne Smith hosts a new installment of the comedy show that's all about you and your well being. You will be inundated (in a Zoom kinda way) with top quality comics that include:
Rachel Pelgram
Sara Schaefer
Jess Salomon
Eman El-Husseini
Don't miss out cuz you certainly don't have to go far to get this prize. Enjoy!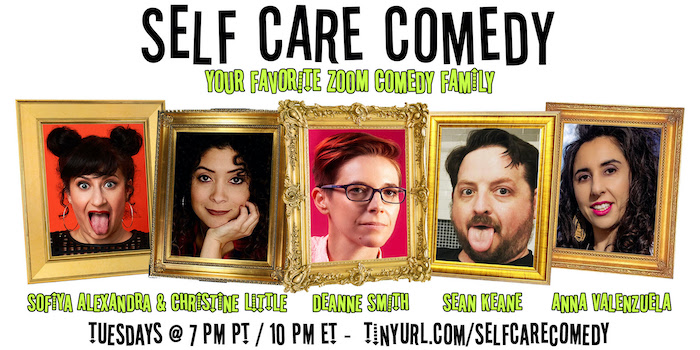 Mentions: Show 7pm PT, 10pm ET. $10 per show tip suggestion. Tip via Venmo, @nakedcomedy, PayPal.Me/NakedComedy, CashApp $nakedcomedy,
& Eventbrite.com/e/self-care-comedy-tickets-138026231173. Zoom link: https://us02web.zoom.us/j/84027069654, Meeting ID: 840 2706 9654. If possible, leave mics and video on. Be in a quiet room, keeping loud sounds to a minimum. Head phones are recommended. Consume EVERY TUESDAY.