Quick Dish LA: POP CULTURED with JIMMY PARDO Live and Virtual 3.9 at Flappers Comedy Club
THIS Wednesday March 9th at Flappers in mostly sunny Burbank, get POP CULTURED! It just dawned on me that some of you are probably too young to even know what a "Got Milk?" ad campaign is. DEAR LORD, sooo much pop culture to catch up on, young Paduan! Start the education this week with the game show where three comedians compete in a variety of comedic challenges to see who will be the most pop cultured. The show is hosted and judged by the amazing Jimmy Pardo (Never Not Funny, Conan) who has recorded three comedy albums: Uno, Pompous Clown and Sprezzatura AND has been seen on such shows as Comedy Bang! Bang!, @midnight, Maron and Monk. This month the POP CULTURED contestants will include:
Blaine Capatch (Louie, @midnight, MADtv)
Kristen Studard (I Think You Should Leave, Modern Family, The Mindy Project)
Irene Tu (Comedy Central, Take My Wife, Funny How?)
This should be one of heck of a show!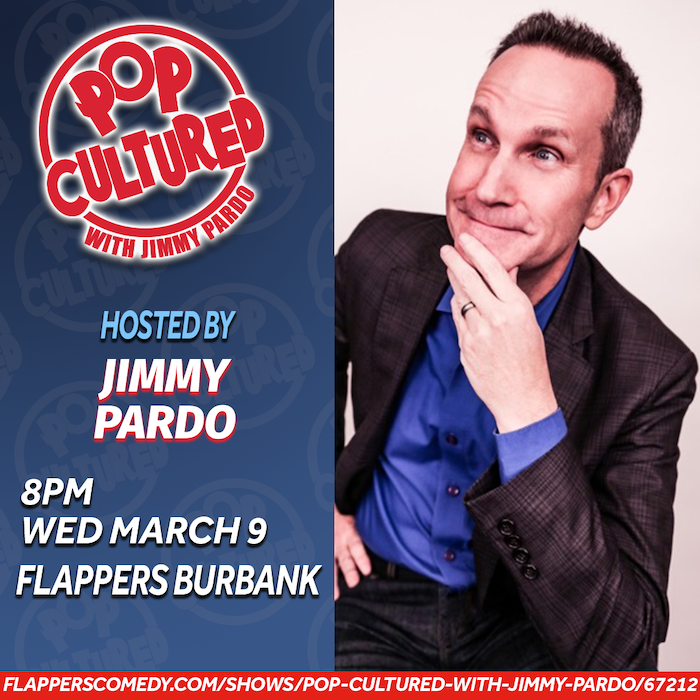 Mentions: Show 8p PT. $15 discount LIVE tickets HERE. $10 discount VIRTUAL THERE. Location: Flappers Burbank, 102 East Magnolia Blvd, Burbank, CA 91502. Fully vaccinate venue, and all member of party must show proof of vaxx to enter.