Quick Dish Online: 'The Brain That Wouldn't Die' Tomorrow 5.10 Live with The Original MST3K Mads!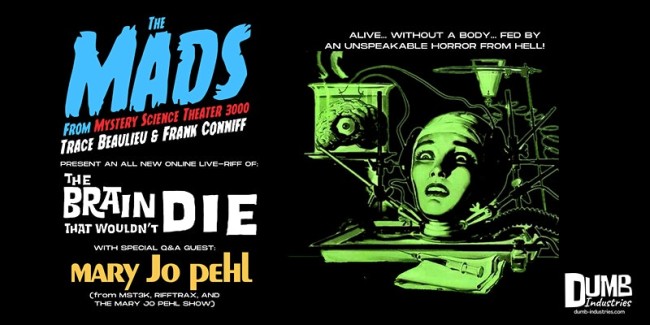 Ready for some good, new cinema riffing? Get your week off to a sci-fi start as the original Mystery Science Theater 3000 Mads offer up a fresh installment of the The Mads Are Back! TOMORROW, May 10th, Trace Beaulieu and Frank Conniff will present an ALL NEW live-riff on the 1962 sci-fi classic, The Brain That Wouldn't Die. The film centers upon a mad doctor who finds a way to keep human body parts alive. GASP! Of course, it doesn't stop there. Said doctor keeps his fiancée's relocated head alive, and imprisons an earlier failed experiment subject in a closet. How rude! You just know The Mads will make this one all the more special. For the special livestream event, Mary Jo Pehl (MST3K, RiffTrax, The Mary Jo Pehl Show) will join in the live-riff fun of the movie that was infamously riffed on a classic episode of MST3K. Don't miss out!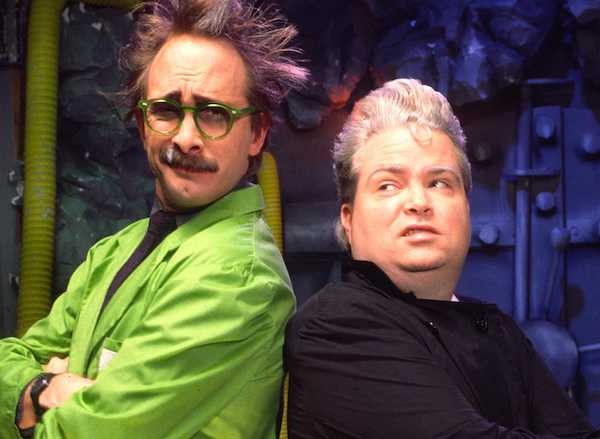 Mentions: Show 8pm ET. $10 tickets HERE (includes download for those who can't watch live). Location: Online. Fun fact: The film was in the public domain from the day of it's release due to a flawed copyright notice. Whee! Support Dumb Industries with some shnazzy merch. Feed the SEO.