Quick Dish LA: BAKE STUFF with Lindsay Comedy Baking Show Tomorrow 5.11 at The Elysian Theatre
If programs like The Great British Baking Show and Zumbo's Just Desserts automatically draw your attention, listen up! TOMORROW, May 5th, at The Elysian Theatre there's a whole new baking show in town. Join comedian and baker, Lindsay Adams, for "an unhinged, interactive, comedy baking show" that's sure to garner laughs and CAKE! Did someone say cake? I'm in! The BAKE STUFF show is the antithesis of your wholesome tv fare, offering up a live step-by-sep baking demo, stand-up comedy, audience participation, and stupid games, of course! This go-round, Renee Gauthier will be the special guests, Max Beasley will be the on-hand assistant, and the kitchen will be filled with the smell of Chicago Steakhouse Carrot Cake! Mmm, cake. Word on the street is, you will actually get to sample the cake (except you folks with foot allergies). What are you waiting for? Grab a ticket below.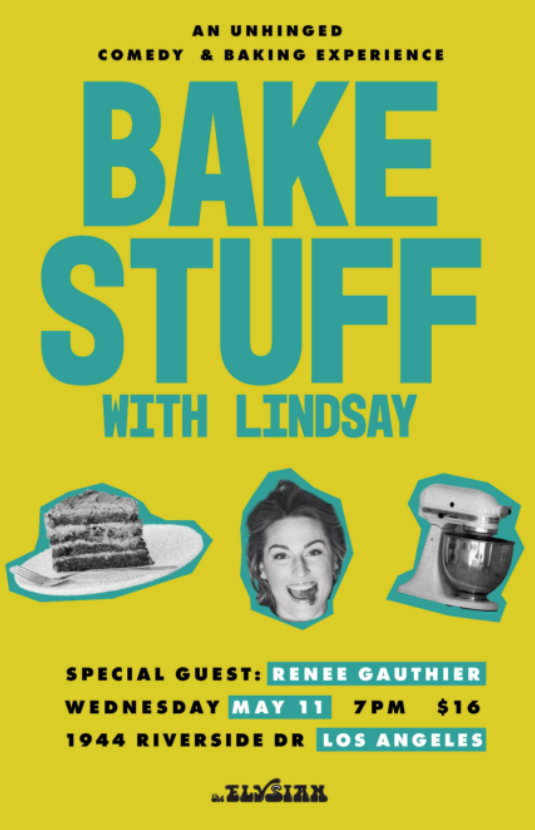 Mentions: Doors at 6:30 PM, Show at 7 PM PT. Tickets HERE. Location: The Elysian, 1944 Riverside Drive, Los Angeles, CA 90039. No joke: the cake available for tasting will not be safe for anyone with food allergies to wheat, nuts (not peanuts), gluten, dairy, sugar, soy. Please taste at your own discretion. All guests must be fully vaccinated. You will be required to show proof of vaccination at event check-in. More info at ticket link. Feed the SEO.