Quick Dish LA: POP CULTURED with JIMMY PARDO Tomorrow at Flappers Comedy Club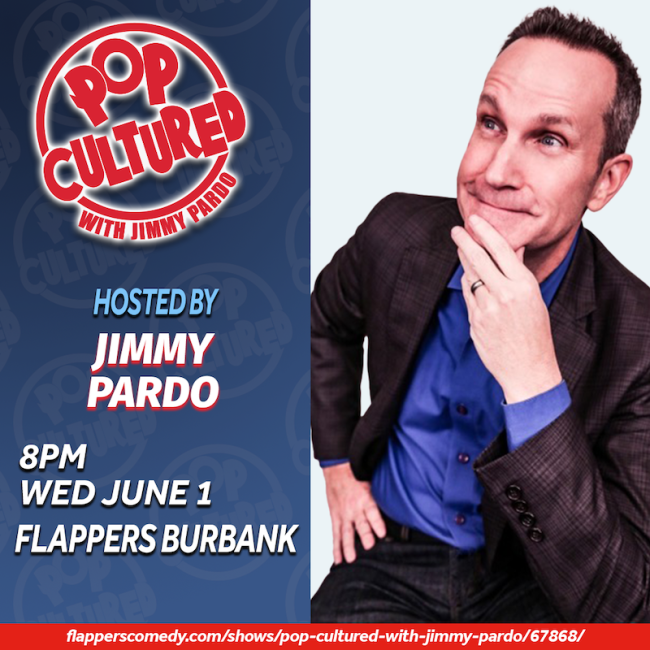 POP CULTURED with JIMMY PARDO returns to Flappers Comedy Club TOMORROW, June 1st. LA's premiere comedy game show features your favorite comics competing in a series of challenges, inspired by TV, movies and the internet. Who will be crowned the most Pop Cultured is left to judge comedian supreme and host, Jimmy Pardo (Never Not Funny, Conan). Wednesday's contestants will include:
Paul F. Tompkins (The Simpsons, The Bob's Burgers Movie)
Kimberly Clark (Last Comic Standing, Tiffany Haddish Presents: They Ready)
Mike Lawrence (The Front Runner, SNL, Crashing)
Featuring Special Guests:
George K. Burns (Born Again Virgin, Web Atlas)
Brendon Walsh (Drunk History, Crank Yankers, Another Period)
& Hal Rudnick (Just Roll With It, Magic for Humans, @midnight)
If shows like Whose Line Is It Anyway? float your boat, then Pop Cultured is the place to be TOMORROW NIGHT!
Mentions: Show 8pm PT. $15 discount LIVE tickets HERE. $10 discount VIRTUAL tickets THERE. Location: Flappers Burbank, 102 East Magnolia, Burbank, CA 91502 This show is produced by Jack Herrguth (Nathan For You), Eric Trueheart (Invader Zim), David Schmitt and Danielle Koenig (Invader Zim). Feed the SEO.