Tasty News: YOUNG SOUTHPAW'S New Comedy Record "HOPSCOTCH TO HEAVEN" Out TOMORROW on Stone Soup!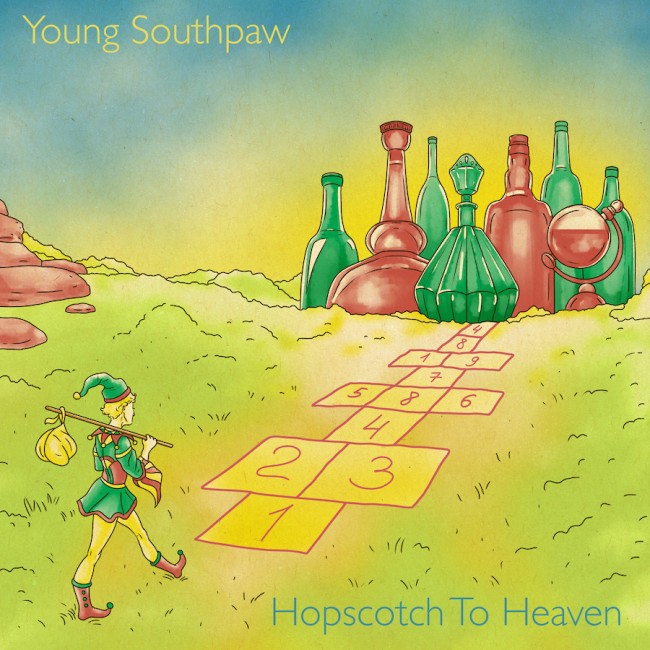 YOUNG SOUTHPAW will be releasing his first full-length album, Hopscotch To Heaven, TOMORROW, June 18th. The comedy record follows on from last year's collaboration with Bobby Barry (The Pipettes, Monster Bobby), Humpty Dumpty in HD. The absurdist comedian's latest endeavor finds him teaming up with Rick Webb (Rockets Burst From The Streetlamps & co-founder of ad agency The Barbarian Group) on the title track, Saint Etienne's Pete Wiggs on 'Infinite Shakespeare', and Nashville-bassist Kevin Reed on 'Jumpin' Jack Flush'. Hopscotch To Heaven will be the first release on the creator's new label/publishing house, Stone Soup. Young Southpaw is, of course, the comedic alter ego of write and musician Aug Stone. Stone has penned the memoir, Nick Cave's Bar, as well as the comedy novel, Off-License To Kill. His journalism has appeared in such publications as The Quietus, The Comics Journal, Under The Radar, and more. There are currently 61 Young Southpaw stories awaiting your attention at The Young Southpaw Part Of An Hour podcast. Now back to that Hopscotchin'!
The new album is an amalgam of delightfully meandering word play, intellectual rabbit holes, and general absurdist playtime inside a giant sandbox world. On the track "Jumpin Jack Flush," Southpaw explores the ramifications of the answer to American jazz bassist Jaco Pastorius' interview question "Where is the future of the electric bass going?" The artist takes Pastorius' response of "well, right now it's going to use the bathroom" to a whole new level with intricate, often overreaching dissection. We are treated to some laughable conjecture, plus more profound questions like, "What if nothing was ever lost? What if the present lies on top of the past somewhere way underneath ancient civilization still going on? Like time is like a cake and these are all the layers, like that Powerslave record. I guess cake is more equated with the French Revolution. Now there's an idea for a Maiden album!"
In the title track, Hopscotch to Heaven, Young Southpaw starts out with a seemingly simple premise that when one refers to "table tennis" they are not actually batting around actual tables at Wimbledon. Southpaw, of course, takes the absurdity of words and runs them into the ground, imagining unthinkable situations, and following faintly logical threads into cavernous mind depths. He goes from tables to shapes to L7 to hopscotch and beyond. And if you are into some track visualization, you can check out the video for Infinite Shakespeare where Southpaw examines the "infinite monkey theorem states," which states "that a monkey hitting keys at random on a typewriter keyboard for an infinite amount of time will almost surely type any given text, such as the complete works of William Shakespeare." Who can beat experimenting with the notion of introducing the theorem to Shakespeare's parents in place of their procreation. Would the world's mathematics and 60s pop culture TV be changed forever? Discuss!
Gift Southpaw's new album to old pop's this Father's Day weekend. It'll be the most unique, mind-jarring gift he's ever received. Also, I'm sure pop has no idea that Drake dropped a surprise album.
Mentions: Hopscotch to Heaven will be available at Midnight tonight via Young Southpaw's Bandcamp. The album will also be streaming on the regular platforms, except Spotify. Album cover art by @lapko.yulia. Follow Young Southpaw on IG, Twitter & YT. Also, Feed the beast.