Quick Dish NY: Tomorrow 'MAN UP: A Show for Women' Live at Caveat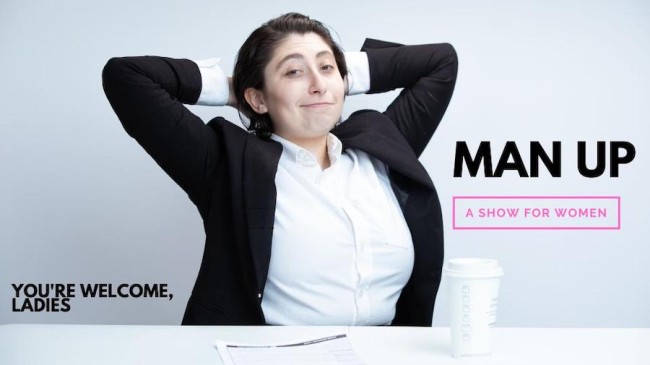 Hey folks, need something to do on the build-up to a holiday weekend? Then it's time to MAN UP! Come see the news satire show hosted by "Chip Johnson," the male drag person of entertainer Maggie Metnick, TOMORROW, June 30th. Man Up focuses on delivering "biting commentary on current events while satirizing the men who believe they hold all the answers about feminist issues." Every episode tackles a different news topic affecting women that Chip will, undoubtedly, give his unsolicited opinions on. Let me tell you, it's a real hoot, whomever you might be! The show is written by both Hunter Lang and Maggie Metnick. Lang is a writer, comic, and improviser who is a member of the house teams Deluxe Edition and Squall! at the People's Improv Theater. Metnick is an actor, writer and comic who has performed improv and stand-up all over the New York. Her credits include theater work in Disaspora, Pul Verite, and Roller Rink Temptation, plus solo work in "Friend, Please" (Dixon Place), "12 Year Old Boys" (The PIT). Do yourself a solid and get you to the Caveat for some hard core laughs from some witty thinkers.
Mentions: Show 9:30pm/9pm Doors ET. Tickets $15 in advance, $20 at the door, $10 livestream. Location: 21 A Clinton Street In New York City. Feed the beast.