Quick Dish Online: Celebrate Two Years of THE MADS ARE BACK with A NIGHT OF SHORTS 8 Livestream 7.12
Tuesday, July 12th, your live-riffing pals Trace Beaulieu and Frank Conniff (Original MST3K's "Dr. Clayton Forrester" and "TV's Frank") are back for a BRAND NEW event celebrating TWO YEARS of livestreams and live-riffing on an all-new batch of SHORTS! No not Bermuda! The kind that doesn't require waist measurements. Past guests of The Mads Are Back events have included Mike Nelson (Mystery Science Theater 3000, RiffTrax), Bridget Nelson (Mystery Science Theater 3000, RiffTrax), Lizz Winstead (co-creator of The Daily Show), Victoria Price (daughter of horror legend Vincent Price), Jonah Ray (Mystery Science Theater 3000), Kevin Murphy (Mystery Science Theater 3000, RiffTrax), Dana Gould (The Simpsons, Stan Against Evil), Marcus Parks (Last Podcast on the Left), Carolina Hidalgo (Movie Sign with the Mads), Andy Kindler (Maron, Bob's Burgers), and so many more! So who will be joining the crew this go-round? Ssshhhh, that's top secret! Be sure to stick around for a post-show Q&A with The Mads and their friends. It should be a blast!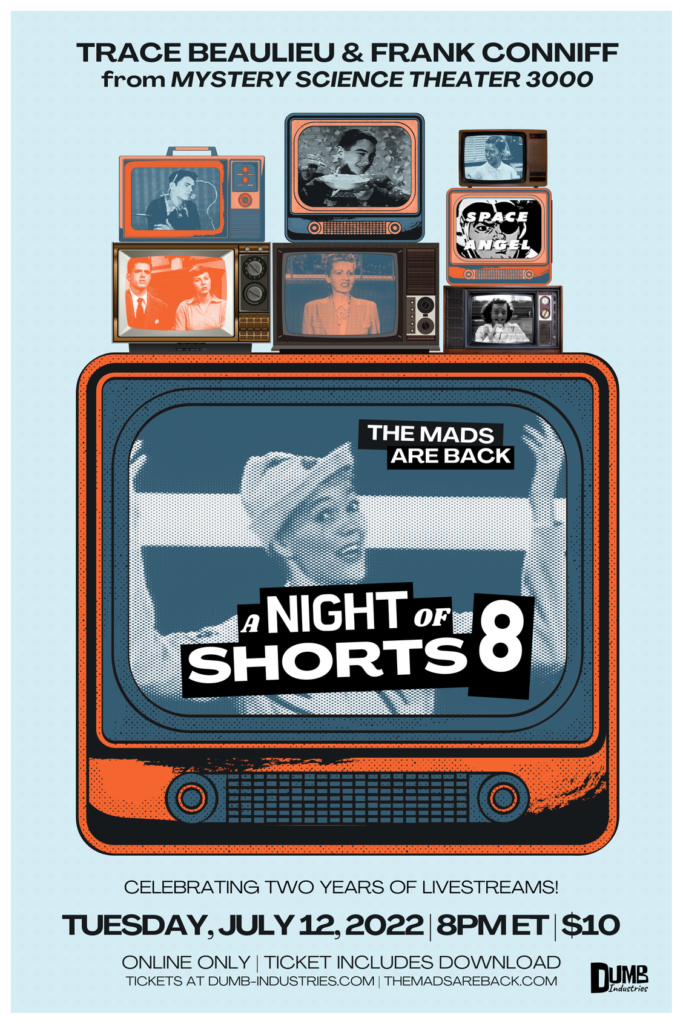 Mentions: Livestream 8pm ET. Tickets (a private link will be posted and e-mailed to buyers on 7.12.22 @ 7pm ET. A download of the event is provided within 24 hours of the broadcast ending, for you to keep forever. A portion of the proceeds from this event will benefit Friends In Need Food Shelf in Minneapolis. Follow Dumb Industries for more news. Feed the beast.