Quick Dish LA: MARTIN URBANO: APOLOGY COMEBACK SHOW Thursday 7.14 at The Elysian Theater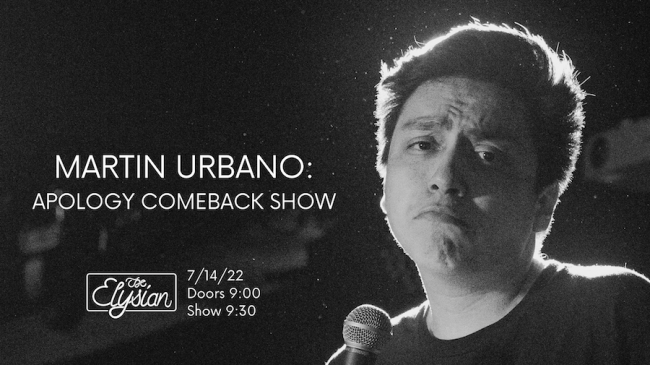 I never ignore social media comments because they are the midi-chlorians that make the internet special. One in particular summarizes comedian MARTIN URBANO's humor to a T: "Spicy Trevor Moore." (I'd give that talented person credit, but I forgot which platform I saw it on just like a Boomer).You really cannot argue that description AT ALL. Sooo This Thursday, July 14, Urbano will be running a super exceptional hour at The Elysian Theater via his APOLOGY COMEBACK SHOW. The comic will share his hilarious takes on topics like Uber, airplanes, wokeness, family and the current social climate. Nothing possibly controversial in there! Urbano made his late-night TV debut on Jimmy Kimmel Live! and can be seen on The Tonight Show, where he is currently a writer. Martin has written on Viceland TV's Danny's House, starring rapper Danny Brown, was a breakout at the Just For Laughs Comedy Fest in 2017, and has performed in front of thousands at festivals like Bonnaroo, Boston Calling, and the New York Comedy Festival. Thursday's show will also include an opening set by the wonderful Megan Gailey (Conan, Comedy Central)! Don't miss out on the hot takes you've been craving!
Mentions: Doors 9pm, Show 9:30pm PT. $15 tickets HERE. Location: Elysian Theater, 1944 Riverside Dr., Los Angeles, CA 90039. Seating begins 15 minutes before showtime. Follow Martin legally. Feed the beast.