Quick Dish LA: PERMANENT VACATION Stand-Up 7.17 at Permanent Records Roadhouse
PERMANENT VACATION is back this Sunday, July 17th to deliver the best FREE comedy Los Angeles has to offer. Your hosts Bailey Norton (Reductress), Sammy Mowrey (HBO Max) and Tyler Jackson (SF Sketchfest) aim to please with this heaven-sent lineup of performers at Permanent Records Roadhouse:
Blair Socci
Diya Basrai
Langston Kerman
Laurie Kilmartin
Mike Bridenstine
Tyler Snodgrass
Could you possibly ask for me? Don't answer that or you'll spoil the rhetoric! Enjoy!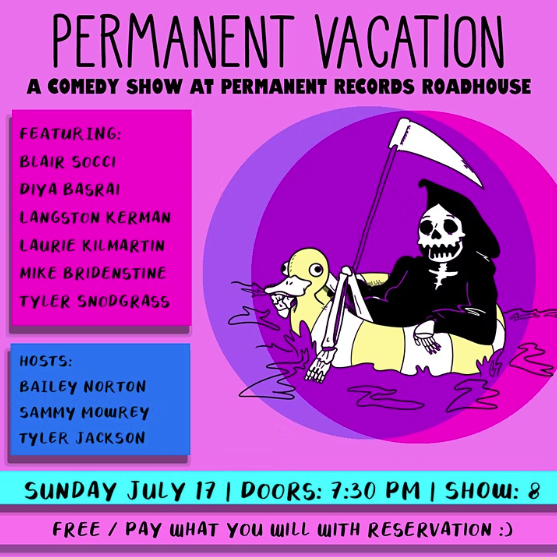 Mentions: Doors 7:30pm, Show 8pm PT. Register, donate HERE. Plenty of street parking. 21+. Location: Permanent Records Roadhouse, 1906 Cypress Ave, Los Angeles, CA 9006. Follow the show. Feed the SEO. Stick around after the show for some music!