Quick Dish LA: BETTER HALF COMEDY Tonight at Bar Bandini with Sheng Wang & More!
Should we declare it a national emergency if you can't find a single package of mini cupcakes at the store? Looks like Cake Mama will have to plunge into the Pepperidge Farms stores. Oh the humanity! OK, let us transition from the bad jokes to some quality jokes, with BETTER HALF COMEDY! It's Wednesday, so that means a NEW installment of your favorite stand-up show hosted by real life parents with comedy jobs. TONIGHT'S lineup is as stellar as they come. Don't believe me, look below:
SHENG WANG (Fallon, Comedy Central)
JENNY ZIGRINO (Conan, MTV)
MEREDITH CASEY (Greener Grass)
ANDREW MICHAAN (Comedy Central)
GUITLER RAPHAEL (Comedians You Should Know)
+ SABEEN SADIQ!
hosted by mom Kara Klenk & pop Jared Logan!
See, we weren't tricking! Venture out and and enjoy the humor.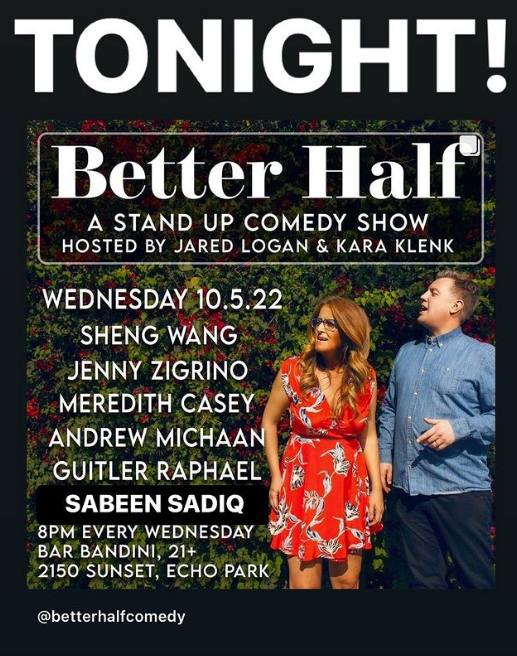 Mentions: Show 8pm PT. FREE (Donate HERE). Location: Bar Bandini 2150 Sunset Blvd, Echo Park. 21+. Follow the show. Feed the beast.