Quick Dish LA: PICTURE THIS! Live 10.8 at Permanent Records Roadhouse
The ONLY live animated comedy show is back in Los Angeles at Permanent Records Roadhouse THIS SATURDAY! PICTURE THIS! brings you one night only pairings of famous comedians and in demand artists and animators. Yes, you can see your faves and their jokes DRAWN LIVE in YOUR FRONT of YOUR FACE. OK, that was way too many capital letters. We will proceed despite the enthusiasm. The comics do not know wha the animators are drawing and the animators do not know how the comics will react. It's a pairing made in entertainment heaven, and this weekend's lineup is as quality as ever. See for yourself:
COMEDY by:
Naomi Ekperigin (Mythic Quest, Netflix)
Christine Medrano (Tribeca, Outfest)
Dana Donnelly (HBO Max)
River Butcher (Comedy Central)
Ever Mainard (Just for Laughs 2022 New Face)
Ify Nwadiwe (Adult Swim, Screen Junkies)
ANIMATION by:
Mike Mayfield(Adult Swim, FOX)
Mike Hollingsworth(Golden Girls 3033)
Ilana M. Schwartz(@Javadoodles)
Barbara Kalustian(Great North)
Alex Salyer(Human Resources)
Aaron Long(Tuca & Bertie)
Hosted by:
Brandie Posey(Lady to Lady, Comedy Central)
There's more treat in this trick or treat bag than you could ever imagine. Come savor it!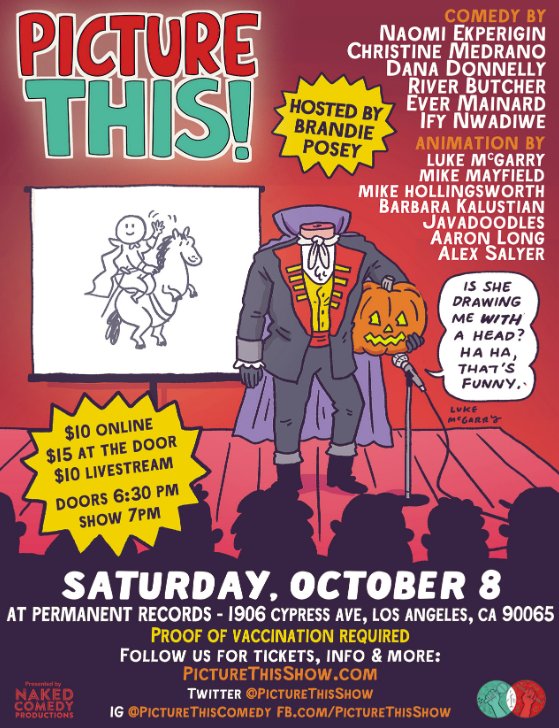 Mentions: Show 6:30pm PT. Tickets $10 pre-sale, $15 day-of, $10 livestream (not all performers guaranteed to be on livestream). 21+. Street parking available (ride sharing encouraged). Location: Permanent Records Roadhouse 1906 Cypress Avenue Los Angeles, CA 90065. Follow the show. Feed the beast. Flier art by Luke McGarry. More show info at PictureThisShow.com. Proof of vaxx required for entry.