Quick Dish NY: THE 1953 THANKSGIVING SPECIAL Tonight at Joe's Pub
Ready to get your gobble on this week? You start your celebrating THIS very evening as Sam Reece & Becky Chicoine star in The 1953 Thanksgiving Special at Joe's Pub. Only ONCE A YEAR do Broadway legends Betty Blanche and Crystal Rogers Senior rise from their graves on 42nd and 9th as elegant ghosts to put on the ultimate musical Thanksgiving special. That's right Thanksgiving musical classic will be blaring, such as "Thanksgiving is a Girl's Night," "Uncle Gary's Somehow in Town?", and "Have Yourself a Juicy Little Turkey." No only will you enjoy tunes like these, but there will be dancing, drinking, special guests (others ghosts from the 50's), and, most importantly, TURKEY! Budlets Reece and Chicoine have written for Comedy Central, HBO Max, MTV, Audible, and more. They are known for their off-the-wall characters, and musical inspired shenanigans. Join them this very evening for a VERY special live musical comedy variety event! They'll keep the flameless fire on for you.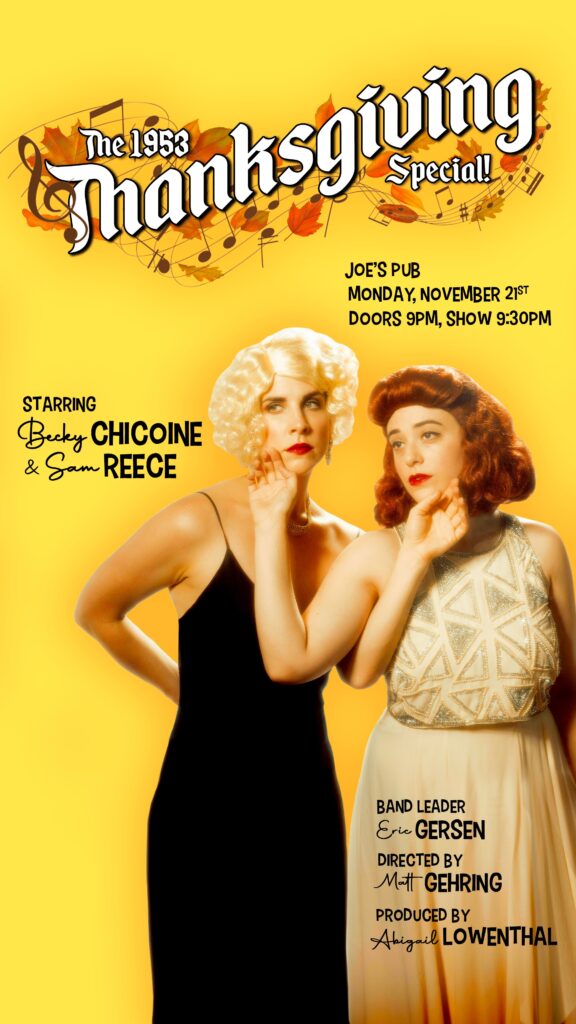 Mentions: Doors at 9:00PM, Show at 9:30 PM ET. $20 tickets HERE. Location: Joe's Pub, 425 Lafayette Street (at Astor Place), New York, NY 10003. This show is produced by Abigail Lowenthal. Follow Sam @itSamreece while you follow Becky @beckychicoine. Feed the beast.