Quick Dish LA: ¡FELIZ CHRISTMAHANUKWANZA! Show Tomorrow 12.8 at The Elysian Theater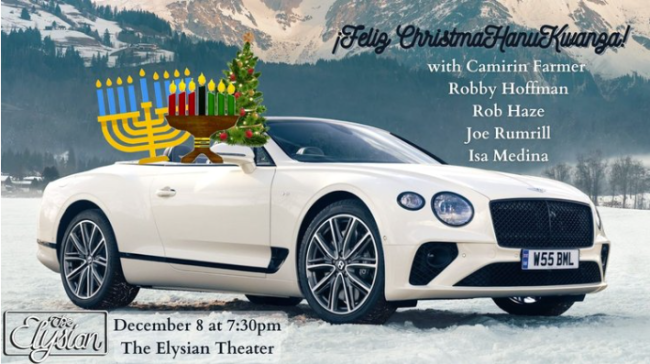 Celebrating only one holiday feel kinda passè? Well, no worries! At the ¡Feliz ChristmaHanuKwanza! show you can celebrate ALL the winter holidays in one go! Host/Cheer-meister Camirin Farmer invites you to a cozy, laughter filled event filled with your favorite entertainers. This lineup aims to sparkle like tinsel ablaze:
Robby Hoffman
Rob Haze
Joe Rumrill
Isa Medina
And when does it all happen? TOMORROW, December 8th at The Elysian Theater. Now go grab a ticket and spread the cheer.
Mentions: Show 7:30pm PT. Tickets HERE. Location: The Elysian Theater, 1944 Riverside Dr, Los Angeles, CA 90039. Feed the beast. This show is co-produced by Saba Kinfe & Alessandria Rhines.