Quick Dish NY: Tonight 'DUTY FREE LIVE! Unauthorized Imported Game Shows' at Caveat
"Fight to the death. Survive to the end." I just started watching a Korean Squid Game inspired athletic game show, thankfully, SANS death. So many cliffhangers! So much tension! So many cut abs! The competition show Physical: 100 (by the grace of the heavens) made it to Netflix, but what about all those amazing game shows that have never been performed live in the United States? Well, TONIGHT is the time to experience some of them! A team of professional comedy writers, localization producers, and comedians will be adapting game show ideas for the New York stage with "Duty Free Live! Unauthorized Imported Game Shows!"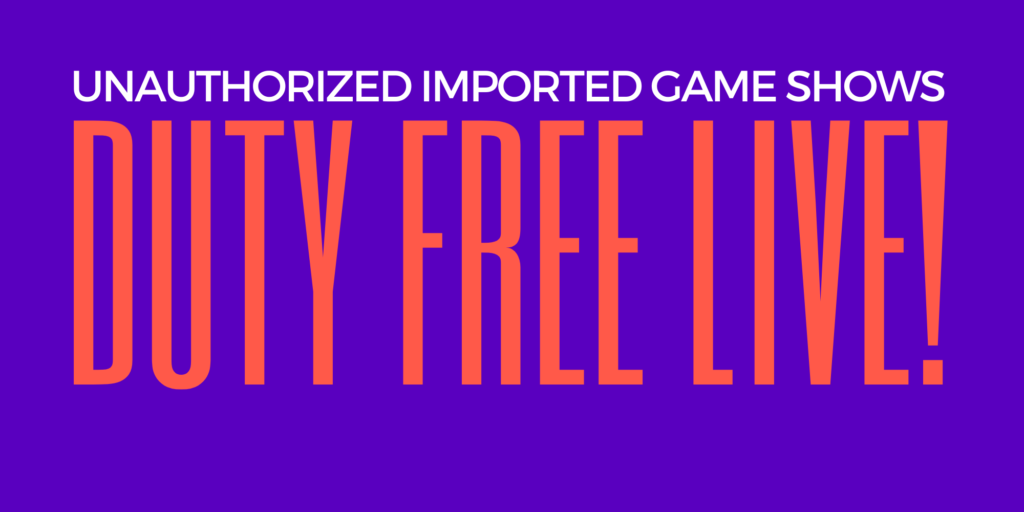 Led by Kent Morita, Grant Mulitz, and Christopher Morucci, tonight's DUTY FREE LIVE! show will be an unauthorized localized production of segments from two smash-hit international game shows, "Don't Feed The Gondolas" and "Running Man", from Ireland and South Korea respectively. The first was an Irish panel comedy show on RTE that featured jokes about topical news events and the news itself. The later, a South Korean variety comedy show featuring many challenges and games, featuring punishments for the losers including but not limited to, waxing their hands, tons of whipped cream, or writing an apology in a language they aren't very familiar with. The players you will see bravely bringing you awesome entertainment will include:
Kendra Augustin (Death in the Family, Most Likely To, Sisterhood in the Time of the Apocalypse)
Bríd McCoey (Broadway Comedy Club)
Arya Kashyap (FBI Most Wanted)
Kevin Flynn (The Onion, Hard Drive)
Kyle Marian (Banana Ketchup, Science Comedy Saloon)
Hannah Marias (Rhythm & Rolls)
Sloan Brettholtz (Grandma's Favorite, Grave Dance)
This should be one heck of a international soup of game show delights! Don't miss out.
Mentions: Show 7pm ET. $15 advance, $20 at the door, $10 livestream. 21+. Discount code: LESS DUTY. Location: Caveat | 21 A Clinton St, New York, NY, 10002. Feed the beast.