Quick Dish LA: ROD STEWART LIVE Tomorrow 2.28 at Whammy Analog Media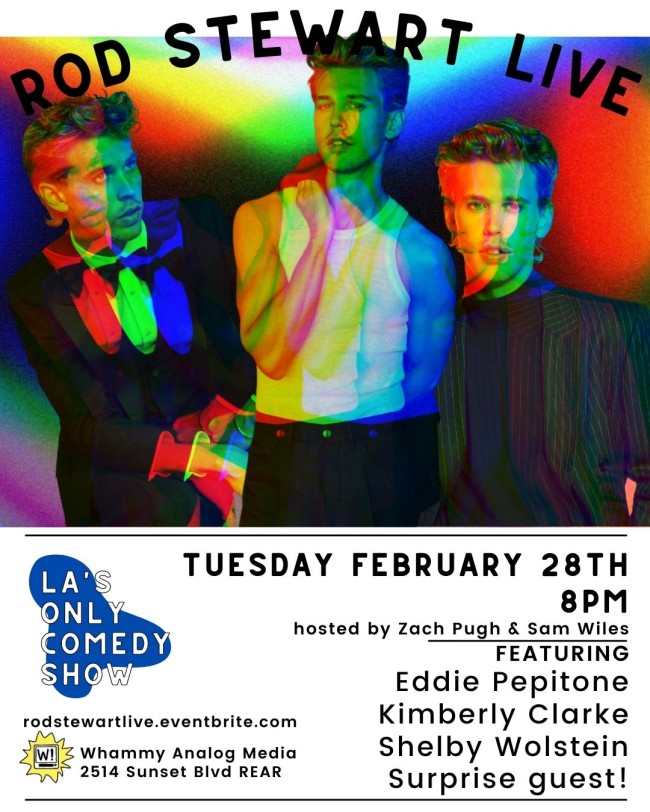 The fourth Tuesday of the month has just about arrived. You know what that means? It's ROD STEWART LIVE keep the vibe alive time! Come out TOMORROW, rain or shine, for LA's Only Live Comedy experience hosted by resident good boys Zach Pugh and Sam Wiles. Would ole' Rod huddle in a ball under the blankets, skipping this one for better weather? NEVER. Yes, we know you are still puzzed by the continuous chills of cold weather, but you can fix that with happy laughter thoughts at Whammy Analog. This gargantuan roster of talent is just begging to be appreciated:
Eddie Pepitone
Kimberly Clarke
Shelby Wolstein
and a SURPRISE SPECIAL GUEST!
Oooh, don't you just love a good surprise?!!! Don't miss out!
Mentions: Show 8pm PT. Tickets HERE. Location: WHAMMY! | 2514 Sunset Boulevard #Rear Los Angeles, CA 90026 (enter through the back parking lot on Rampart). Follow the show. Feed the algo.