Quick Dish LA: TALKIES Comedy Variety 3.16 at Whammy Analog
That time of the week has arrived, when we wind down the week in anticipation of the weekend. What better way to spend that time than experiencing some awesome comedy! TONIGHT try something a little different with the West Coast's best unconventional, experimental, and multimedia live comedy event. TALKIES Comedy Variety Show features comedians, writers, improvisers, and performing working outside of their regular routines to push the boundaries of comedy. You can expect PowerPoint presentations, characters, off-stage antics, and everything in-between. The show started in the SF Mission District basement of Lost Weekend Video store, acting as an incubator for many unique comedy talents spreading their winds on weird flights of fancy. That creative spirit lives on, taking roost TODAY at Whammy Analog! TONIGHT's show is hosted by Nick Stargu, Aviva Siegel, George Chen, and Land Smith-Abbinate featuring guests
Jena Friedman
Amy Miller
Max Beasley
and Tyler Jackson!
The program also includes videos curated by Bret Berg (Museum of Home Video)!
Won't you join in the fun?!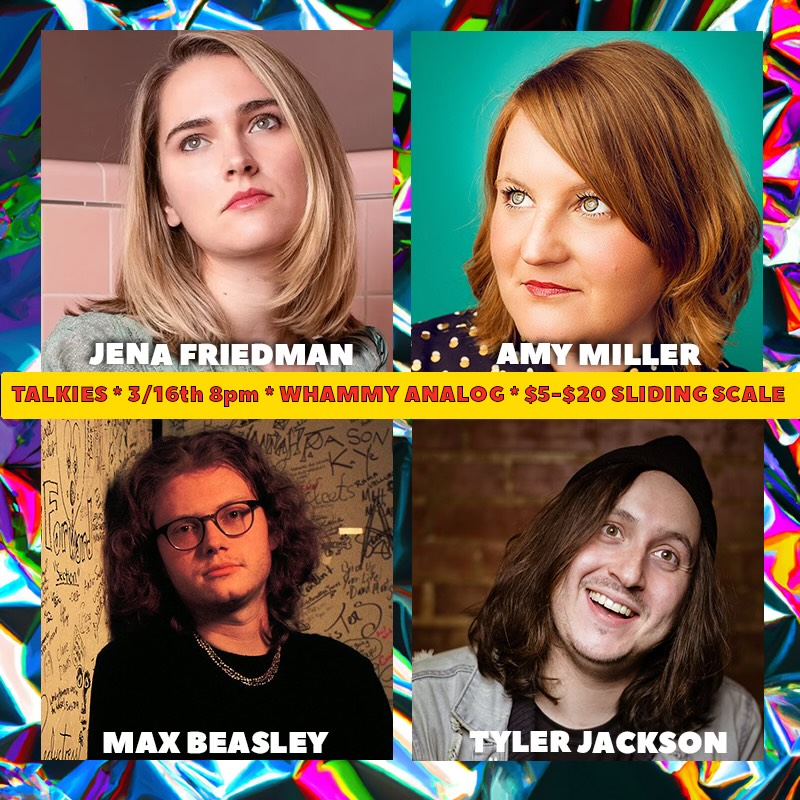 Mentions: Doors 7:45pm, Show 8pm PT. Purchase link: https://talkies-comedy-show.eventbrite.com PRICE: Sliding scale from $5-$20. Location: Whammy Analog | 2514 Sunset Blvd Rear, Los Angeles, CA 90026. Follow the show. Feed the algo.