Quick Dish NY: LANDLINE COMEDY Tomorrow 3.30 at Wild East Brewing
TOMORROW at Wild East Brewing, it's a venerable laugh party as Andre Medrano hosts another thoroughly engaging LANDLINE COMEDY show. Past guests have appeared on the Tonight Show, Comedy Central, Netflix, Hulu, the Late Show, Conan, and comedy festivals around the country. A brand new set of guests will be joining Andre for a truly hilarious hang. The question is, do they have a Landline inside their panic room?
Amber Preston (WTF with Mark Maron, Doug Loves Movies)
Talal Alyan (Vermont Comedy Festival, Westside Comedy Club)
Mary Cella (The New Yorker, McSweeney's)
Ted Jones (Ted Jones World podcast)
Sabeen Sadiq (Code Switched, Just for Laughs)
Andrew Barlow (Shack Daddy)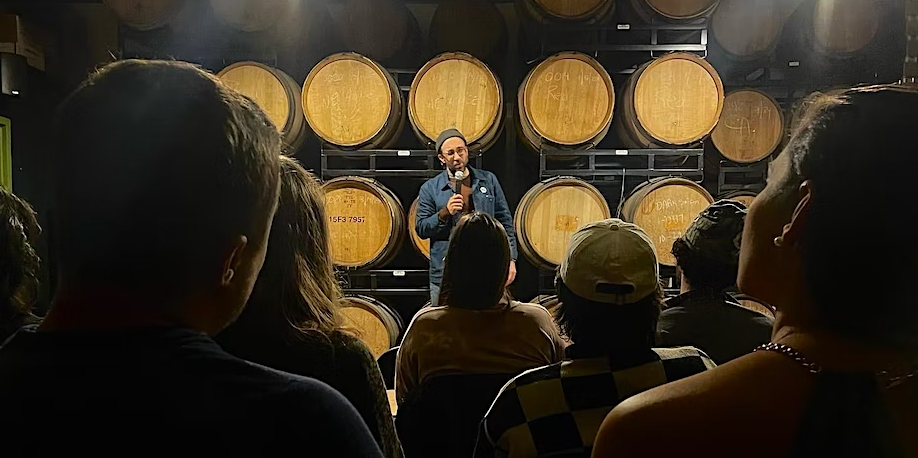 This show is FREE, but reserving a spot enters you in a drawing for a FREE drink. Gratis is always the way to go, kidz! You can occasionally spot a food pop-up around Wild East, a craft brewery not to miss. Stop on by for some refreshments and heart laughs, if you know what's good for you.
Mentions: Show 8pm ET. FREE (reserve spot for drink drawing). Location: Wild East Brewing Co. | 623 Sackett Street Brooklyn, NY 11217 (blocks from the Union Street stop in Gowanus). Follow the show. Feed the beast.